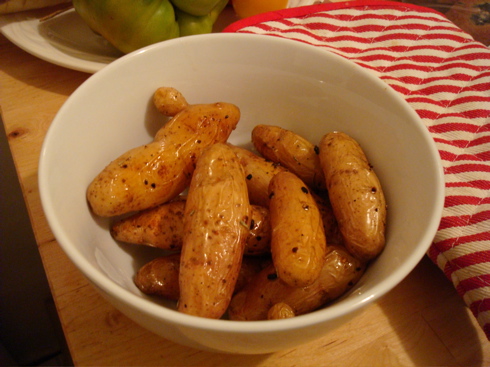 I picked up a pound of Rose Finn Apple Fingerling Potatoes at the farmers' market this weekend. These fast-roasting potatoes are often more moist and flavorful than the standard Russet baking potatoes, making them an easy side dish. Here's a quick recipe:
Oven Roasted Fingerling Potatoes
-1 pound fingerling potatoes, rinsed and dried
-Olive oil
-3 cloves minced garlic
-2 tsp dried rosemary
-Salt and fresh ground pepper to taste
1. Preheat oven to 500°
2. Place potatoes on in a square baking dish and drizzle with olive oil. Toss until all potatoes are fully coated and then add rosemary, garlic, salt, and fresh ground pepper. Toss again.
3. Roast until tender, approx. 20 minutes.