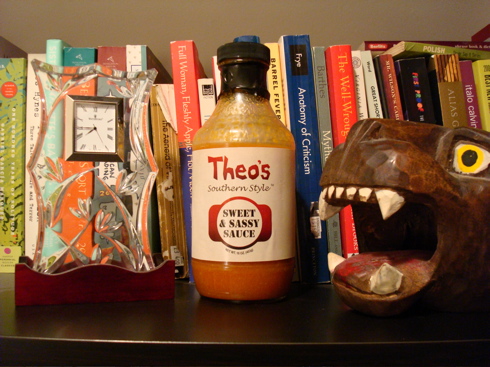 In my hometown of Binghamton, NY, there is only one place to go in the area for delicious, heart-stopping soul food. Theo's Southern Style Cuisine on Main Street is located just over the border in Johnson City and its menu has everything from fried chicken to macaroni and cheese to sweet potato pie. They also cater events and make large quantities of wings to order. Just about every graduation party I attended after high school featured a few dozen of their wings.
On early weekend or summer afternoons during high school or college vacations, my friends and I would meet for lunch around the vinyl red and white checkered tablecloths in Theo's simple dining room. My meal of choice was always fried chicken fingers with fries and Theo's signature Sweet and Sassy Sauce on the side. This sauce is easily my favorite sauce in the history of the culinary arts and lucky for me, it comes in a bottle. The bottle pictured above (placed prominently on my bookshelf) was brought to Brooklyn by my friend Vince a few weeks ago and was actually hidden under my pillow so it would be a surprise in a tooth fairy sort of way.
This sauce served as a call to action to find a way to make delicious, sauce-worthy chicken without having to fry it as I don't have the tools and don't trust myself with all of that scalding oil on the stove. After doing some searching on the web and a test this evening, I think I reached a happy medium.
This is a take on a basic oven-fried chicken using melba toast for an extra crunch.
-4 chicken breasts, cut into thick strips
-1 box melba toast
-1 large egg
-1 1/2 tablespoons milk
-1 tsp. salt
-1 1/2 tsp. freshly ground black pepper
-1/2 tsp. cayenne pepper
-Olive oil or cooking spray
1) Preheat the oven to 400°
2) Put the melba toast in a food processor and chop until reduced to mostly bread crumb-size chunks. A few sizable chunks of toast are okay. Add salt, ground black pepper, and cayenne pepper and process a few more moments. Pour this mixture into a large ziploc bag.
3) Cover a baking sheet with aluminum foil and spray surface with cooking spray (or coat with small bit of olive oil).
4) Mix the egg and milk in a bowl with a fork. Dip each chicken strip in the egg and milk and then place in the bag and shake individually, fully coating with the toast mixture. Place on the baking sheet.
5) Spray the coated strips with a bit of cooking spray if desired. Bake the strips for 8-12 minutes (depending on thickness) and then flip . Bake another 8-12 minutes or until cooked through.
6) Serve with the sauce of your choice.
You will note that the melba toast chunks on the chicken pictured below is a bit larger than ideal. This is because my food processor is a wimp and I gave up, choosing the ziploc bag and pounding-bag-with-canned-good route instead. Still tasty.