As I was finishing up my holiday shopping in SoHo in early December, I sensed my blood sugar levels taking a turn for the worst. The answer was pit stop at Kee's Chocolates on Thompson Street for a few truffles and a lychee macaroon. While not the healthiest afternoon snack, it was the perfect indulgence for a Friday afternoon in Manhattan. 
Kee's Chocolate's got me thinking about truffle making and how involved it may be. It's really just chocolate ganache with a few flavorings dipped in melted chocolate, right? How difficult could it be? I decided to find out last week.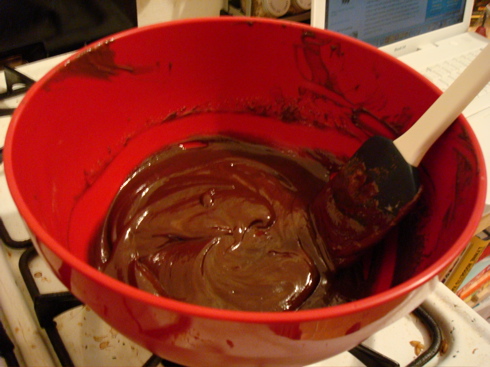 After running a few searches, I decided to try out this recipe from Alton Brown. The first steps were easy. I modified the filling recipe by making the chocolate and cream base and then splitting it into three smaller tupperware containers to add flavorings in place of the brandy. I added 2 tbs. of Irish cream to one batch, 2 tbs. of raspberry preserves to another, and 2 tbs. of the original brandy to the last.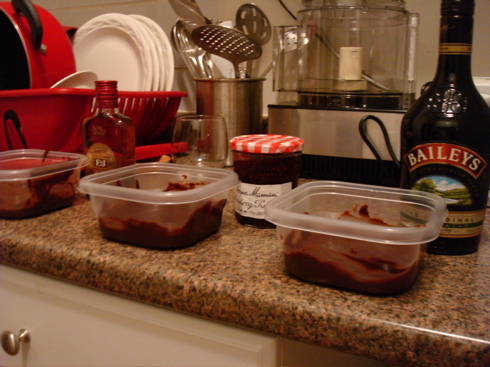 After letting the filling harden in the fridge, rolling the balls, and letting them set, I discovered the difficult part of the truffle-making process: coating with melted chocolate. I didn't have the heating pad recommended in the recipe, so I created a double boiler using a stainless steel bowl, some water, and one of my saucepans. The first dozen truffles were coated in optimal-temperature chocolate, but as time went on and the chocolate level in the bowl was reduced, the temperature became more difficult to control. 
In the end, the chocolate was scorched with two truffles still waiting to be coated. Next time I'll track down a heating pan or find something thicker than a stainless steel mixing bowl for the double boiler. The truffles that did make it into the chocolate and were subsequently rolled in various coatings turned out pretty well though.