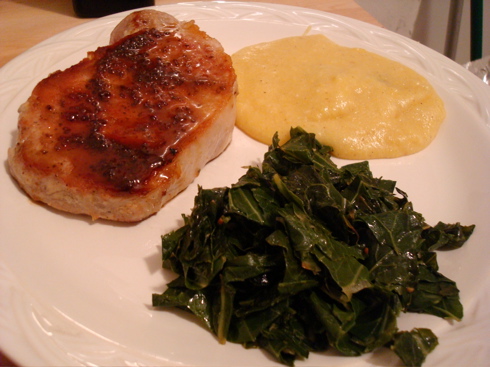 Polenta seemed to be everywhere I turned this week. Mark Bittman made a breakfast pizza with it, Anthony Bourdain came across it in one of his travels during a late-night marathon of No Reservations, and an unopened bag of cornmeal was sitting in my kitchen, originally intended for a cornbread that never happened. This creamy cornmeal dish, similar to grits, is a blank canvas for a wide range of flavors. I decided to go the simple route since it was my first time making it, choosing to flavor it with chicken stock and parmesan cheese. I then paired it with maple pork loin chops and collard greens for a plate of serious comfort food.
Polenta
-2 cups chicken stock (you can substitute vegetable stock or water for a vegetarian version)
-2 cups water 
-1 cup fine ground cornmeal
-4 tbs. butter
-1/4 cup parmesan cheese
-Salt and pepper to taste 
1) Bring broth and water to a boil in a medium saucepan. Whisk in cornmeal in a steady stream and continue to whisk for two minutes. Add butter and stir until incorporated.
2) Reduce heat to medium-low and cover. Stir every five minutes for about 30 seconds and recover. Continue this process for 30-35 minutes. 
3) Add parmesan cheese, stir until incorporated, and then add salt to taste. Serve. 
Collard Greens
-1 lb. collard greens
-2 tbs. bacon fat (you can substitute butter for a vegetarian version)
-1 tbs. unsalted butter
-2 garlic cloves, minced
-Salt and pepper to taste
1) Fill a large saucepan with water and put on to boil.
2) Tear or cut the leaves from the bitter white stems. Discard the stems and chop the leaves into 1″ by 1″ pieces. 
3) Once the water is boiling, add the chopped greens and cook for 15 minutes, stirring occasionally. 
4) Drain in a colander and press down to remove as much water as possible. 
5) Heat bacon fat and butter in a large skillet, then add minced garlic and stir until fragrant, no more than 15-20 seconds. 
6) Add greens and cook over medium-low heat for 8 minutes, stirring often. 
7) Add salt and pepper to taste and serve. 
Maple Pork Loin Chops
-2 pork loin chops, 1 1/2″- 2″ thick
-1 cup chicken stock
-1/4 cup maple syrup
-1 tbs. dijon mustard
-2 tbs. olive oil
-Salt and pepper
1) Rinse chops and pat dry, then season with salt and pepper. 
2) Heat olive oil in a large skillet on medium-high heat and then add chops, searing on each side for about 2 minutes. 
3) Reduce heat to medium and cook chops for an additional 5 minutes or more, depending on thickness. They're done once their internal temperature reaches 140º.
4) Place finished chops on a plate and cover with foil. Add chicken stock to pan and turn on heat to medium-high. Add maple syrup and dijon and stir occasionally until the sauce become thick and syrupy. Be careful not to overcook or the sugars in the syrup will begin to stick to the pan. 
5) Pour over chops and serve.