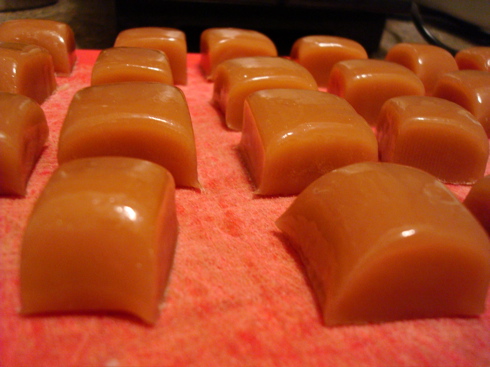 I took my second foray into candy making on Sunday afternoon. My first was with chocolate truffles for a New Years Eve party and this time around, I decided to take on salted caramels. The inspiration came from a Barefoot Contessa episode I saw a few weeks ago, during which Ina Garten made Fleur de Sel Caramels rolled into small circles and topped with a sprinkling of salt. They looked delicious and easy to make, as long as I had a candy thermometer and kept a close eye on things.
The caramel adventure began with a hunt for a small container of Fleur de Sel, but I couldn't find anything priced lower than twenty dollars in my area. Now is not the best time for me to be dropping that kind of money on a jar of salt, no matter how wonderful it is, so I settled for regular sea salt and followed Ina's recipe. The result was a batch of oddly-shaped caramels coated in a layer of butter. I traced the issue back to a part of the recipe that instructs you to pour the hot caramel into a pan and immediately put it in the refrigerator. When this kind of rapid temperature change occurs, the butter and other fats can separate from the sugar, resulting in the greasy layer. Here's an image of one of the caramels after being refrigerated for a bit, the butter now hardened: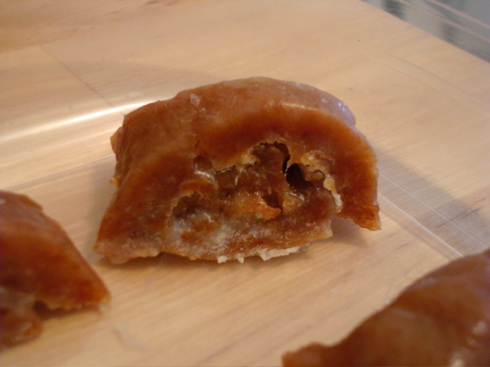 Yikes. 
Refusing to be defeated by sugar and cream, I decided to give caramels another try a few hours later, armed with another recipe and my newfound butter knowledge. The new recipe came from Jacques Pépin and involved the word "foolproof" in its introductory paragraph, so I knew I was on the right track. My only modification to the recipe was adding a teaspoon of sea salt to the cream and butter mixture and then sprinkling some on top of the caramels once they were flipped out of the loaf pan.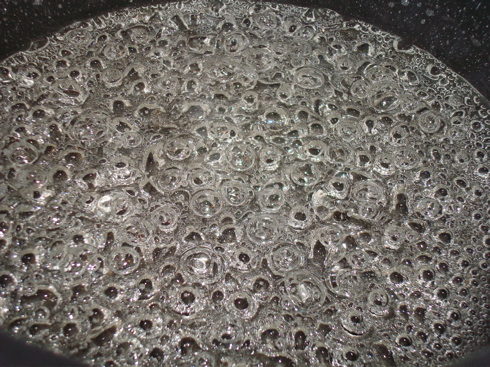 Here's the sugar boiling. As the sugar begins to caramelize, you'll see a golden brown color develop around the edges and begin to spread.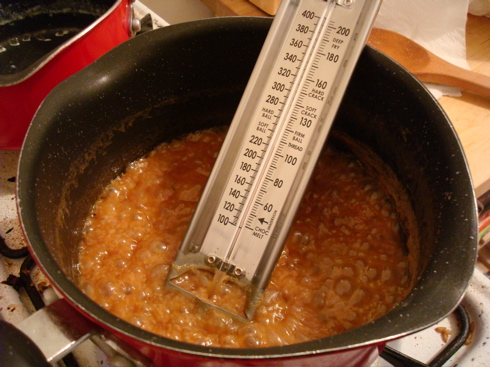 Although the amount of the ingredients seems small, make sure to use a tall-sided saucepan. The mixture boils up, briefly doubling or tripling in volume when you add the cream mixture. It settles down, as you can see above, but no one wants to clean hardened caramel off of a stovetop. Also pictured: my new candy thermometer. At $12.95, it's a great kitchen investment.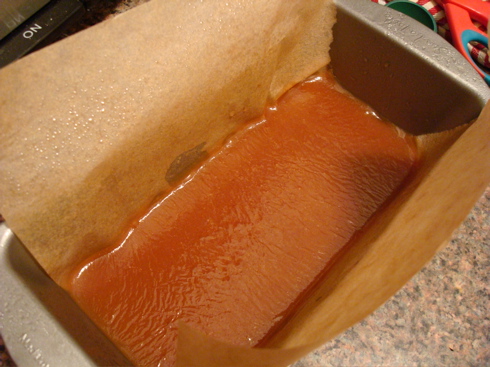 The caramel cooling at room temperature in a lightly oiled loaf pan.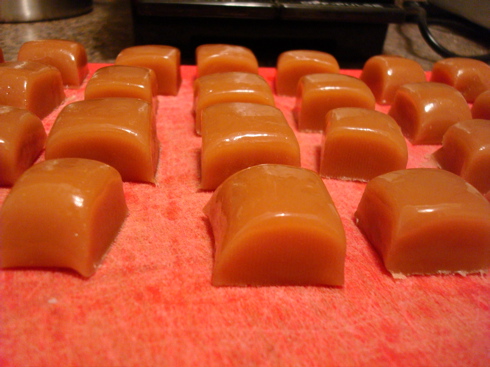 The cut caramels, pre-salt sprinkling. I made them a bit smaller than the recipe instructs.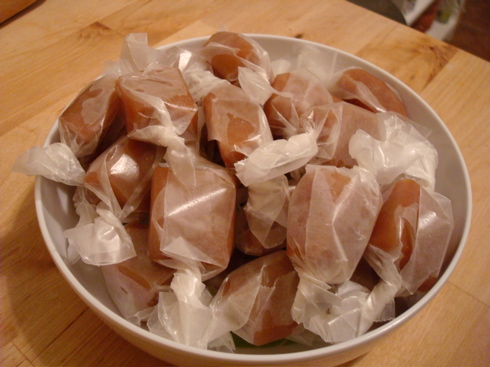 For easy storage and serving, I wrapped the caramels individually with wax paper. Cutting the paper to 5″ x 4″ pieces seemed to cover any variations in caramel size.