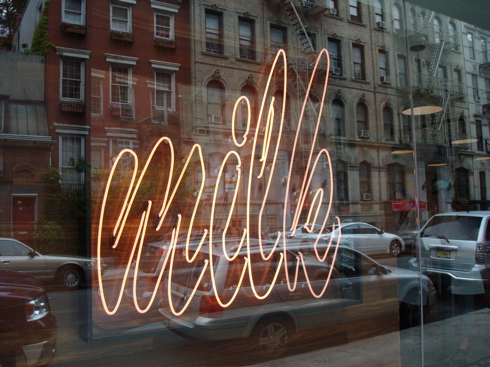 I found myself at a bar in the East Village on Saturday night after dinner and a movie around Union Square. After introductions to friends of friends, we hit on something we all had in common: a love of Momofuku Bakery and Milk Bar. It's not that uncommon in New York, as Momofuku is now an institution with constant buzz and hoards of fans between its four locations (Milk Bar, Ssam Bar, Noodle Bar, and Ko), but for some reason, passion for the Bakery and Milk Bar always seems to surpass the rest.
We started to exchange descriptions of our favorite items. The pies, the cookies. I gasped in horror when they revealed they had never tried the pork buns. This was warranted horror, as the mingling flavors of thin cucumber slices, hoisin sauce, scallions, and pork belly on a soft steamed bun is as close to culinary transcendence as I've ever been.
The pork buns are really not the stars of the Milk Bar though. They can be found at all of the other Momofuku restaurants. At the Milk Bar, it's all about the desserts. Christina Tosi, Momofuku's pastry chef, has developed a menu that takes all of your childhood dreams of sugary breakfast cereals and prized lunch bag snacks and melds them into ice cream, cookies, cakes, and pies. Their current soft serve ice cream flavors include red licorice and fireball, and you can have them topped with Nerds, Lemondrops, or Twizzlers. The compost cookie™ (yes, trademarked) has almost every kind of cookie variety melded into one. It's pictured here along with the chocolate-chocolate cookie that (I believe) is a chocolate cookie with chocolate brownie chunks.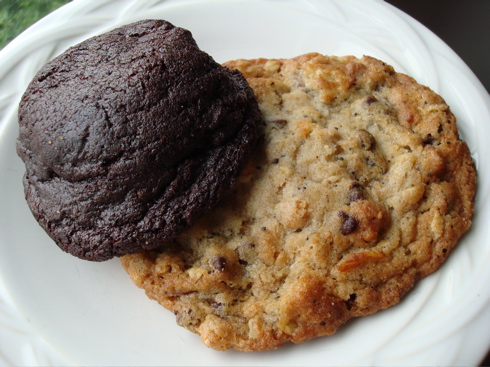 There are of course what would be considered "fancier" desserts, such as the chocolate chip cake with lemon curd, chocolate crumbs, and coffee buttercream, or the playful Arnold Palmer cake with iced tea jelly, lemon mascarpone cream, almond tea crunch. However, I always return to the cookies. It's the perfect polyamorous marriage of convenience, comfort, and taste, with everything you need in one little handheld package.
It was the desire for those cookies that pulled all of us out of the bar at 1 AM on Saturday morning; six twenty-somethings walking through the streets of the East Village recalling Saved by the Bell episodes in search of a taste of childhood. When we finally arrived after a short walk, the store was mostly dark and two workers were wiping down the counters. The door was locked. FYI: They close at midnight.