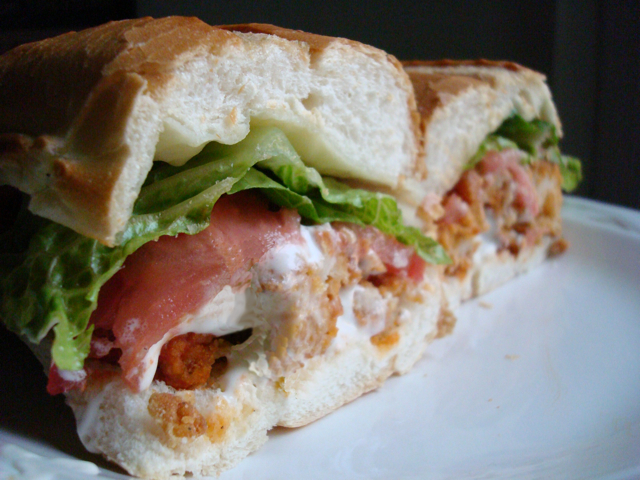 There are two food superstars in Western New York. The first and most famous is the Buffalo wing, created in the kitchen of the Anchor Bar back in the 1960s. The second is the lesser-known Garbage Plate of Rochester, beloved by drunk college students, locals, and anyone looking for a a few thousand calories of greasy goodness. Nick Tahou Hots, home of the Garbage Plate, describes the dish as "a base of any combination of home fries, macaroni salad, baked beans, or french fries topped by your choice of meats and dressed to your liking with spicy mustard, chopped onions, and Nick Tahou's signature hot sauce.  Each plate comes with two thick slices of fresh italian bread and butter." Essentially, it's everything you might find at a backyard barbecue piled on one plate.
With unique (and heart-stopping) foods like these, it's no surprise that the chicken finger sub is one of the most overlooked Western New York delicacies. This sandwich, featuring chicken fingers dipped in Frank's Redhot sauce, can be found in almost every sub shop, the occasional pizza place, and at certain Wegmans locations. I even made variations of the sub while working at the on-campus sandwich shop in college, where weight-conscious sorority pledges would get all of the fixings in a wrap to cut down on carbs (including the blue cheese dressing).
Despite its popularity in Rochester and Buffalo, the chicken finger sub is virtually impossible to find in New York City. Its scarcity may be a blessing to the waistlines of transplanted upstaters, but for a dedicated few, it's a call to take matters into their own hands.
Tonight, Ramsey and I decided to make the subs from scratch (almost) and you can find the recipe and photos after the jump.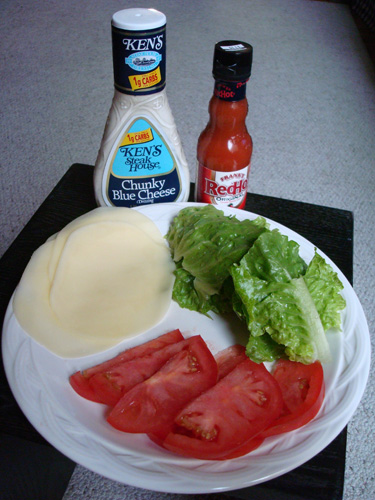 Chicken Finger Sub
-4 12″ sub rolls
-12 chicken fingers (store bought frozen or for a more health-conscious version, crispy chicken strips made with melba toast or panko bread crumbs)
-1 small head iceberg lettuce, shredded
-2 tomatoes, thinly sliced
-1/4 lb sliced provolone cheese
-Blue cheese dressing
-1/2 cup Frank's Red Hot
-1/4 cup melted butter (adjust to taste if you want the sauce more or less spicy)
1) Bake the chicken fingers according to bag or recipe directions.
2) While the fingers cool, cut the sub roll in half and spread the provolone slices on the top half. Lightly toast the roll in the oven at 400° for 3-5 minutes, or until the cheese is melted.
3) Dip the chicken fingers in a bowl of Frank's Redhot and butter and coat them completely. Set aside. (Ramsey took care of this part, as pictured below.)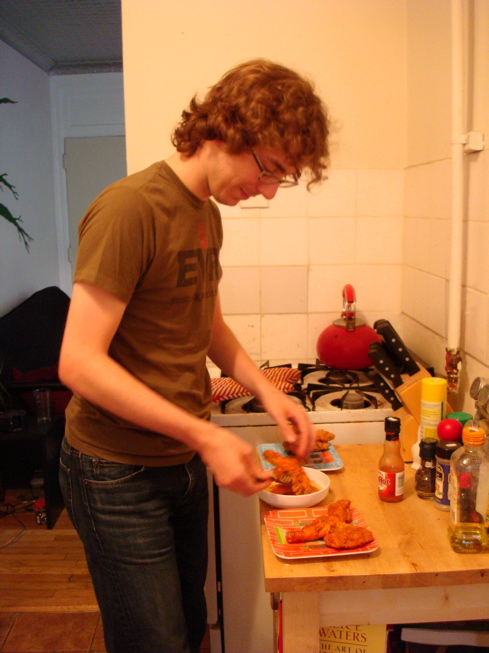 4) When the roll is done toasting, remove from the oven and spread the blue cheese dressing on the bottom half. Place the chicken fingers on top of the dressing, then the lettuce and tomato. Slice down the middle and you're done.