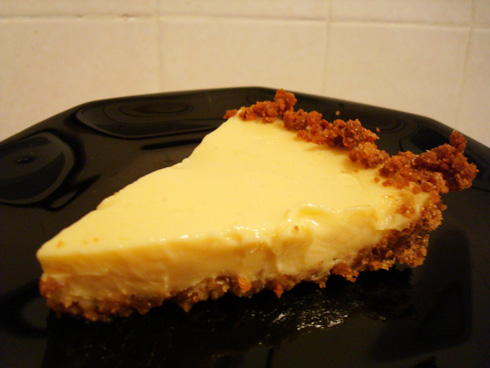 When I think of pie, my mind immediately goes to setting up a workstation complete with flour, ice water, a rolling pin, and plenty of wax paper. I recall the careful waiting game of chilling the dough, then rolling it out (but not too much!), and trying to place it into a pie dish without ripping it. It's a rewarding but stressful process that I'm not always prepared to undertake.
Enter the graham cracker: a buttery, sweet angel to the rescue of those who want to bake a pie but don't want the hassle of a flour-based crust. It's the crust of choice for chocolate and banana cream, but it's most notably found lining the pans of key lime pies everywhere.
I made my first key lime pie this weekend for a small gathering of friends. Although I had consumed more than my weight in the pie as a child visiting my grandparents in Florida, I'd never even looked at a key lime recipe before. This was the simplest version I could find, as I wanted to skip the meringue topping.
Overall, it was one of the easiest baked goods I have ever made, save for the labor involved in squeezing the limes. No stress, no rolling pins. I was unable to find key limes in Greenpoint, I so I used regular limes, a dash of lemon juice, and 1/2 tsp. of lime zest in the filling to make sure it had the right balance of tart and sweet. My only recipe suggestion is lightly greasing your pie dish with butter because the graham cracker crust may stick a bit.
In place of photos from my baking process (I was frazzled getting ready for company and forgot to document), I offer you photos from a yo-yo competition I attended the following day at South Street Seaport.