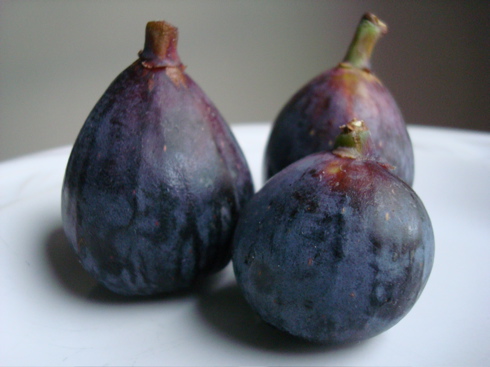 As a child, I despised Fig Newtons more than any other lunch bag item. I couldn't stand the mealy texture of their filling or the moist cookie surrounding it, even though the commercials hailed them as a refined confection. They had no animated mascot or commercials featuring rebellious kids with fruit heads. All I wanted was a pack of Dunkaroos or a bag of Gushers before running off to band practice, so more often than not, the Newtons would end up traded to an unsuspecting 2nd grader or in the trash.
This hatred of Fig Newtons resulted in me never trying a fresh fig until last year. They were easy to avoid in the Northeast, however when I came across a fig and prosciutto salad during my lunch hour, I decided it was time to grow up and I'm so glad I did. Fresh figs are nothing like their mashed and mangled cousins in Fig Newtons. They're incredibly sweet and have a texture unlike any other fruit I've tried.
I was inspired by this salad from Last Night's Dinner and I made my own version for dinner today. It's a combination of figs, goat cheese, blueberries, and greens that come together with a balsamic vinaigrette. Recipe and more photos after the jump.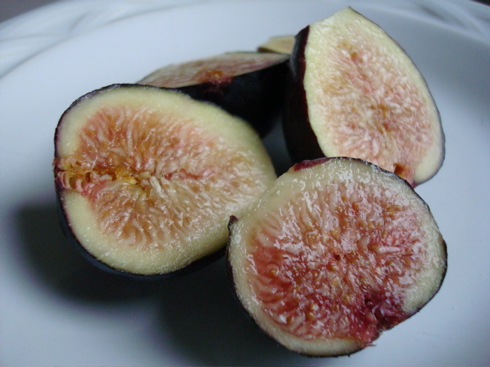 Fig and Goat Cheese Salad
Inspired by Last Night's Dinner
(Ingredient amounts for the salad are up to you, but I've provided general guidelines based my on preferences for two servings)
Salad
-4 figs, quartered
-1/2 cup blueberries
-1 oz goat cheese, cut into chunks
-2 cups arugula or mixed baby greens
-Sprinkling of walnuts (if desired)
Dressing
-1/2 cup olive oil
-1/8 cup balsamic vinegar
-1/2 tbs. Dijon mustard
-1/2 small minced shallot
-Salt and pepper to taste
1) Toss together salad ingredients in a medium bowl.
2) In a small bowl, whisk together vinegar and mustard. Whisk in oil in a steady stream, then add the minced shallot. Add salt and pepper to taste.
3) Add desired amount of dressing to salad and store the remaining vinaigrette in a sealed container in the refrigerator for up to three days.