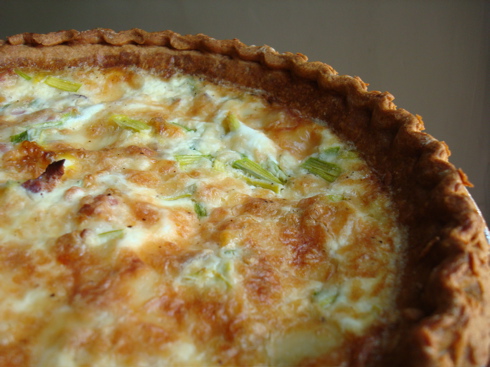 I don't usually cook for lunch, preferring to throw together a salad or sandwich in the middle of the day. On Tuesday however, I was inspired by the dozen eggs sitting in my fridge and ran to the store for a few extra supplies for a quiche. Along with the eggs, I just needed bacon, leeks, pie crust, and a few cups of half and half for a simple lunch and a few days of breakfast.
Bacon and Leek Quiche
-Your favorite pie crust from scratch or store-bought (no sugar) for a 9″ quiche pan
-4 eggs
-1 1/2 cups half & half
-5 slices of bacon, cooked and roughly chopped
-1/4 cup finely chopped leeks (discard the tough green tops and use the white and light green stem)
-1 tbs. butter
-4 oz. grated Swiss cheese
-1/2 tsp. kosher salt
-1/4 tsp. black pepper
1) Preheat oven to 350°.
2) Place the pie crust in a lightly greased quiche pan and refrigerate for 30 minutes. Once chilled, remove from the fridge and cover with parchment paper. Add pie weights (dry beans or ceramic baking weights) and bake for 15 minutes. Then, remove the weights, discard the parchment paper, and poke the bottom of the crust with a fork in a number of spots. Place back in the oven and bake for another 10 minutes.
3) While the crust is baking, melt 1 tbs. butter in a medium skillet and cook the leeks over medium heat for 8-10 minutes, or until tender. Stir often and turn down the heat if they begin to brown. Drain the butter and set aside. Next, beat the eggs, cream, salt, and pepper in a medium bowl and set aside.
4) When the crust is done, allow to cool for 5-10 minutes. Line the bottom of the crust with the cooked leeks and bacon, then sprinkle evenly with the grated Swiss cheese. Finally, pour the egg and cream mixture on top.
5) Bake for 40-45 minutes, or until the eggs are set and the top of the quiche is nicely browned.