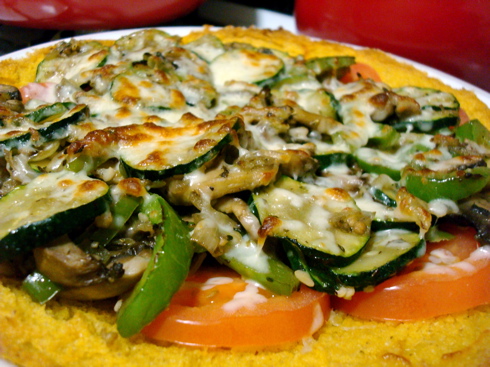 My mouth is still not fully healed from my surgery, but this weekend was the first time I branched out beyond pasta and I may have gone a bit overboard. Saturday dinner was barbecue from Fette Sau, Sunday morning brunch was vegetarian eggs Benedict at Brooklyn Label, and Valentine's Day dinner was a chicken taco by Ramsey at my request. The whole weekend was rounded out with a game of Scrabble and an assortment of Italian pastries from Fortunato Brothers in Williamsburg. Oof.
I felt a recipe from The Moosewood Cookbook was in order for dinner tonight, and I chose Polenta Pie. Photos and a short recap after the jump.
This recipe calls for a simple polenta crust topped with cheese and sauteed vegetables, but I made a grievous rookie mistake. I used a pie plate that was too small and my crust was too thick, lacking crispness near the middle. I also should have made the polenta with 2 cups of vegetable stock instead of the suggested water as it was a little bland. Still, the crust looked nice before I popped it in the oven, lightly brushed with olive oil.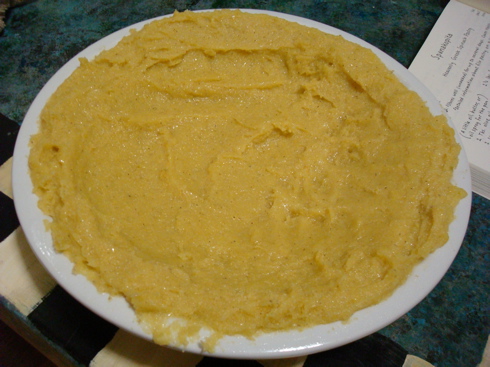 Vegetables for sauteeing and topping.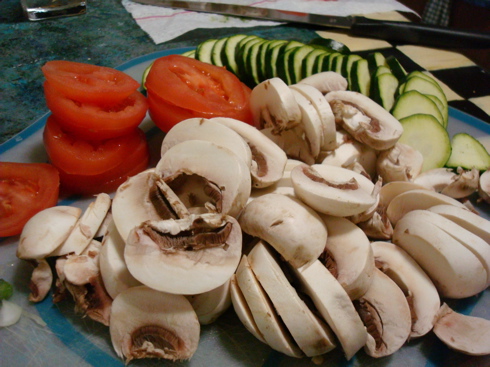 The finished pie, looking well-browned around the edges, but mushiness was lurking underneath.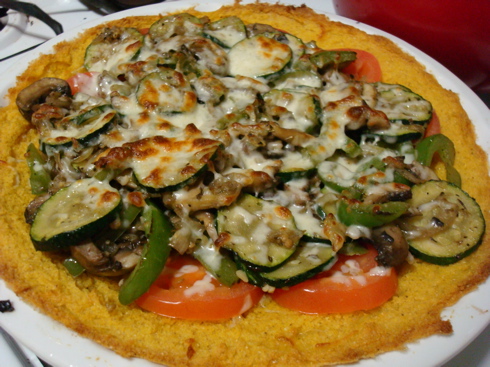 Thoughts for next time: more cheese, a dash of red pepper flakes, some vegetable stock, and a bigger pie plate (or less polenta). Despite my mistakes, it was a hearty meal and still tasted good in a pile on my plate.