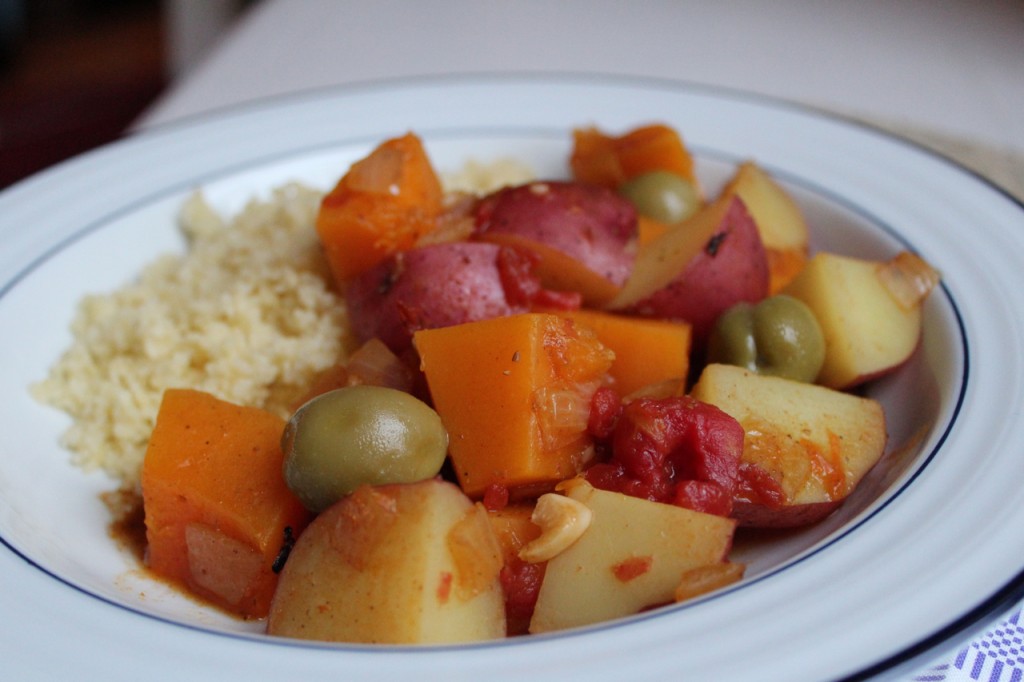 Winter won't commit to Brooklyn this year. There have been a few passing flirtations—a small snow storm, a day of freezing rain and wintery mix—but I'm pretty sure we've surpassed 50° every week since November. As a result, I haven't been in the mood to make many of the dishes I enjoy when temperatures are below freezing, the ones that slow cook for hours and involve lots of beef, wine, and carbs. I want something warm, but with brighter flavors than typical winter fare.
The answer: a Moroccan-inspired stew, complete with preserved lemons, cumin, cinnamon, and saffron. Saffron always looks pretty…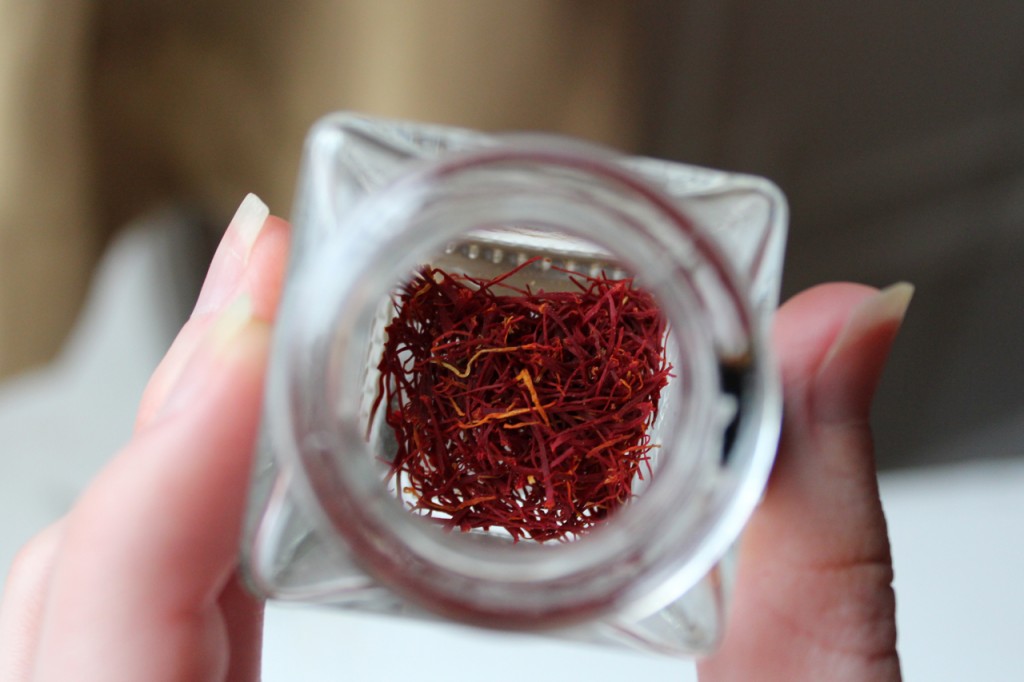 …but preserved lemons kind of freak me out. They look like an ingredient for a witch's brew.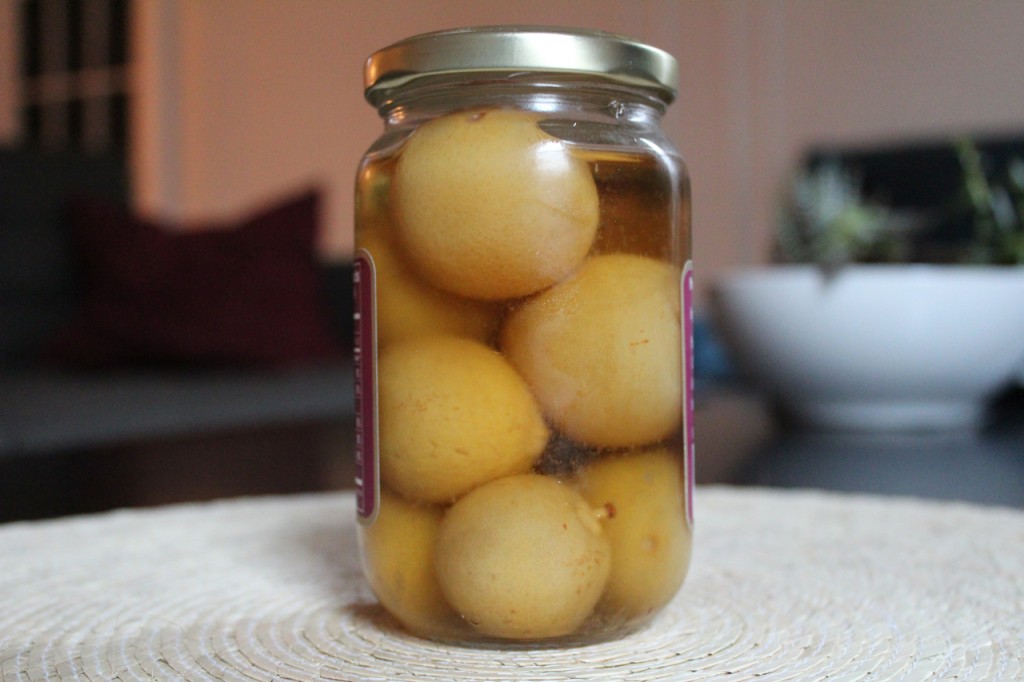 If you aren't familiar with preserved lemons, they're pickled in lemon juice and salt. They aren't hard to find in most big grocery stores or specialty shops, and depending on where you live, they shouldn't cost too much. The jar pictured above cost around $4 at Fairway. You can always substitute fresh lemon juice in the stew, but it won't have quite the same flavor.
Whether you use legit preserved lemons or lemon juice, when combined with the cinnamon, cumin, ginger, and saffron, they take a jumble of simple vegetables to a new level. Did I also mention that the whole recipe takes under an hour to complete? Yes, my friend. This is a vegetable stew you can make on a weeknight (or a busy weekend). Let's get to it.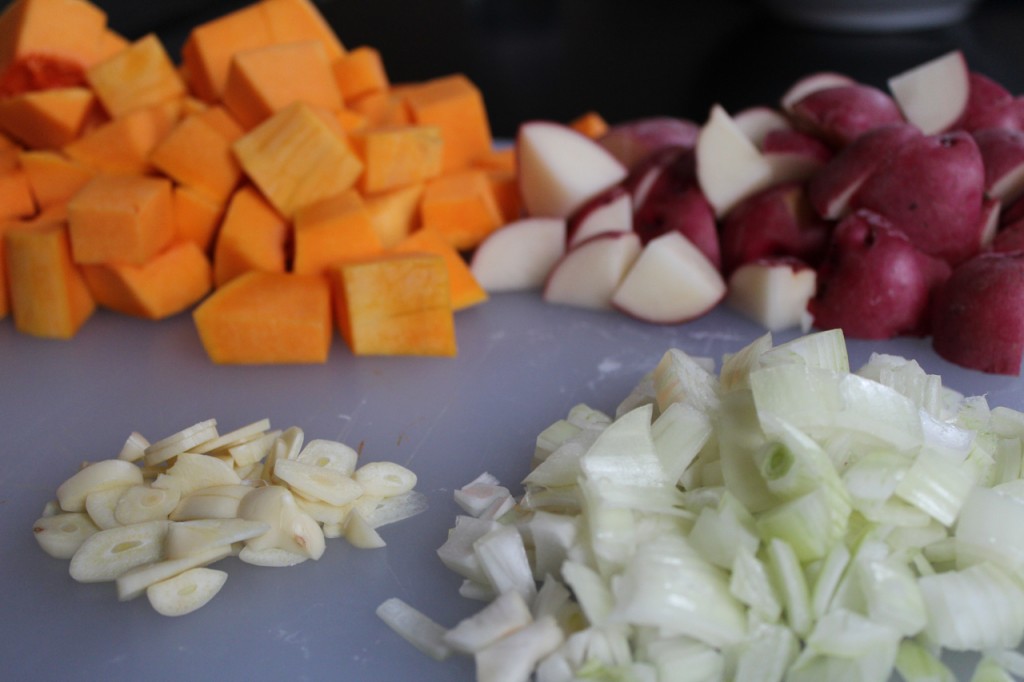 Moroccan Squash Stew
Serves 6-8
(Adapted from Smitten Kitchen. Note: The original recipe also called for 2 cups of chickpeas, so feel free to add them in.)

1 tablespoon unsalted butter
1 tablespoon olive oil
1 medium yellow onion, small dice
4 medium cloves garlic, thinly sliced
1 tablespoon ground cumin
1 teaspoon ground ginger
1 (3-inch) cinnamon stick
Salt and freshly ground black pepper
1 pound peeled butternut squash, large dice
1 pound red potatoes, skin on, large dice
2 cups low-sodium chicken or vegetable broth
1 (14-ounce) can diced tomatoes, with juices
Pinch saffron threads
Pulp of 1/2 preserved lemon, finely chopped
1 cup brined green olives
Steamed couscous, for serving
Optional garnish:
Fresh cilantro leaves, roughly chopped
Toasted slivered almonds
Plain yogurt
1. Heat butter and olive oil in a Dutch oven or heavy-bottomed saucepan with a tight fitting lid over medium heat. When the oil shimmers, add onion, garlic, cumin, ginger, and cinnamon, and season with salt and freshly ground black pepper. Cook, stirring occasionally until the onions are soft and translucent, about 5 minutes.
2. Add squash and potatoes, season with a bit more salt and pepper, and stir to coat with with the oil and spices. Cook until the squash and potatoes start to become tender, about seven minutes, stirring occasionally.
3. Add the broth, tomatoes and their juices, and saffron. Bring the mixture to a boil and then reduce the heat to low. Cover and simmer until the squash and potatoes are completely tender and easily pierced with a fork, about 10 minutes.
4. Meanwhile, make your couscous according to the box directions.
5. Once the vegetables are tender, remove the stew from heat and stir in the preserved lemon pulp and olives. Serve over couscous and your garnishes of choice.