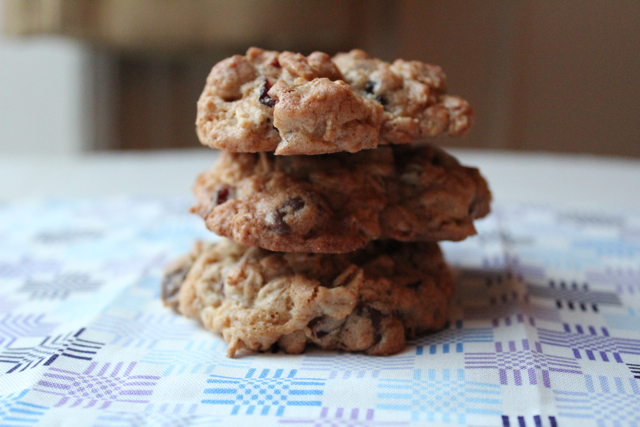 I'm going to share some personal health information with you because it relates to the cookies pictured above: I spent thirty minutes in an MRI machine yesterday afternoon. I'm not dealing with anything serious or life-threatening, so don't worry, but it did require me to stay motionless in a tiny tube for a half-hour while a machine took pictures of my insides—a really, really loud machine. For most people, this would be an uncomfortable 30 minutes, but for an anxiety-ridden, claustrophobic person like me, it was just one long panic attack.
They did have some sweet signs, though.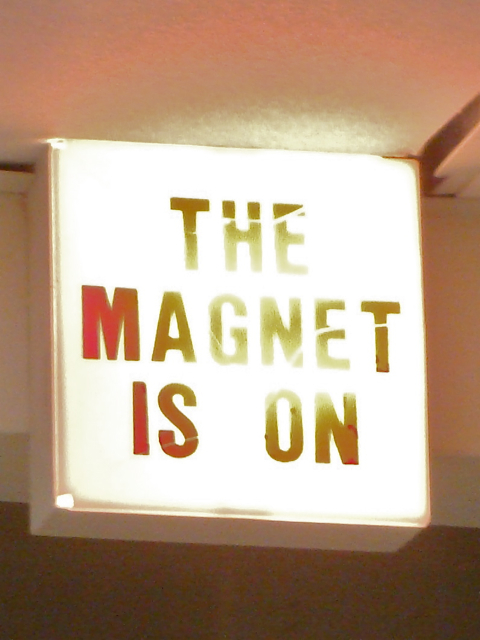 When the exam was over, I refused to take the subway home and spend an hour in a larger tube, so I took a cab instead. I rolled my window down as we passed over the Brooklyn Bridge and looked out over the river. My sunglasses were on, the city wind pulled at my hair, and I knew there was only one way to celebrate freedom: baking some damn cookies. Namely, some cookies with oatmeal, cranberries, and chocolate chips.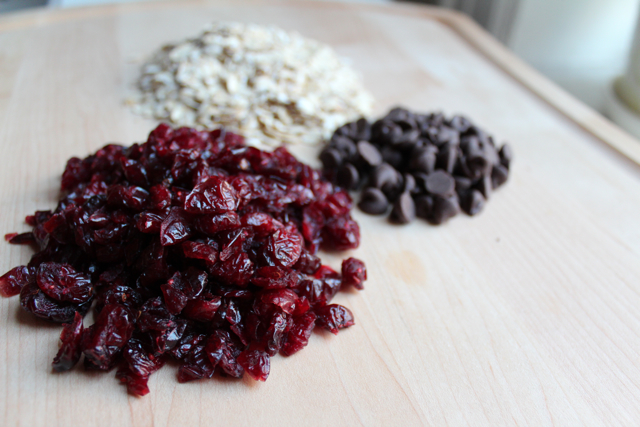 I'd call them Oatmeal Triple C Cookies, but the Internet tells me Triple C is the street name for a cough medicine teenagers like to trip on. Hm. Let's stick with the more descriptive Oatmeal Chocolate Chip Cranberry Cookies. Oatmeal Chocolate Chip Cranberry Cookies
(Adapted from Smitten Kitchen's Oatmeal Raisin Cookie recipe)
Makes about two dozen cookies
1/2 cup (1 stick) butter, softened
2/3 cup light brown sugar, packed
1 egg
1/2 teaspoon vanilla extract
3/4 cup all-purpose flour
1/2 teaspoon baking soda
1/2 teaspoon ground cinnamon
1/2 teaspoon ground ginger
1/4 teaspoon ground cloves
1/4 teaspoon salt
1 1/2 cups rolled oats
1/2 cup dried cranberries
3/4 cup semi-sweet chocolate chips
1. Pre-heat oven to 350º.
2. In a large bowl, cream together butter, sugar, egg, and vanilla until smooth.
3. In a separate bowl, mix the flour, baking soda, cinnamon, ginger, cloves, and salt. Mix into the butter and sugar mixture until the flour disappears.
4. Fold in the oats, cranberries, and chocolate chips with a wooden spoon until they're evenly distributed and coated with batter. At this point, you can chill the batter if desired or bake right away. Chilling will give you thicker cookies.
5. Line a baking sheet with parchment paper or a Silpat baking mat. Place the cookies two inches apart on the sheet and bake for 10-12 minutes, or until the edges of the cookies are golden brown but they're still a bit soft in the middle. Let the cookies cool on the sheet for five minutes and then move to a cooling rack.