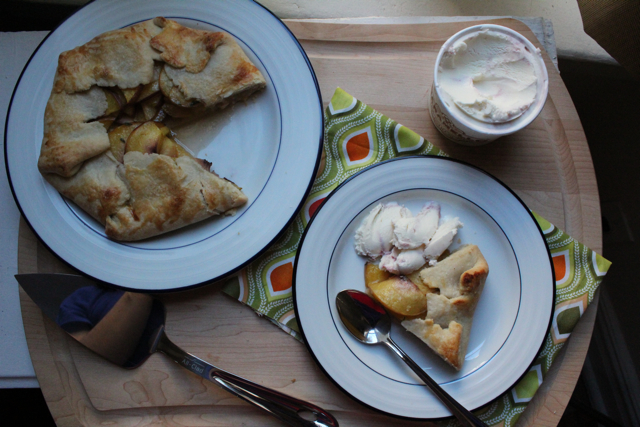 Summer officially ended last week, but I said goodbye yesterday with a peach galette. The galette—or lazy tart, as I like to call it—is simple. Make a pie dough and then chill it, roll it, fill it, fold it, and bake it. There are no fancy pans or blind baking of crusts. Here's an animated gif I made (inspired by Randwiches' Gif Kitchen) to demonstrate:
Easy, right?
To make the filling, I combined ripe peaches with fresh thyme, sugar, cinnamon, and a little butter.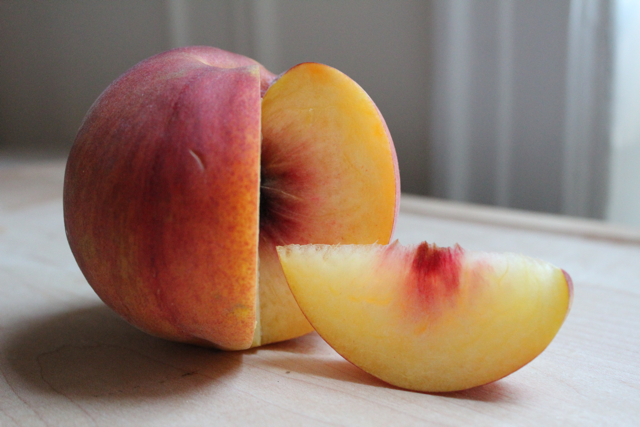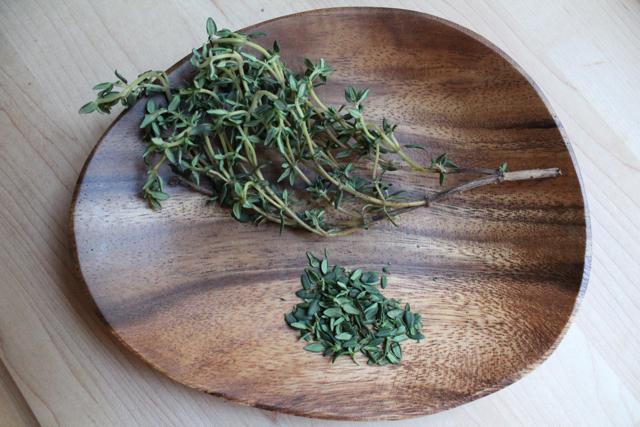 I also picked up a few scoops of mascarpone gelato from Caramello in Park Slope to serve on the side.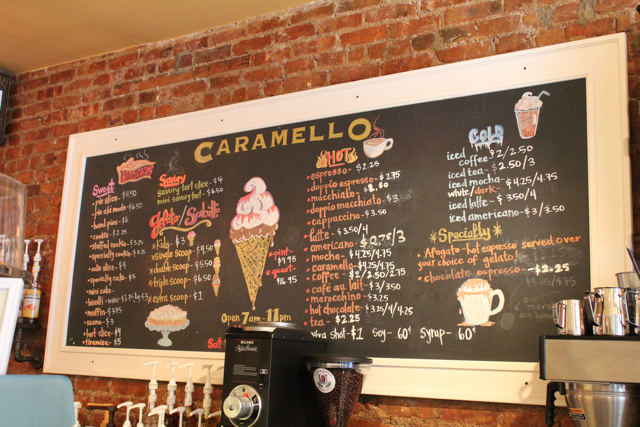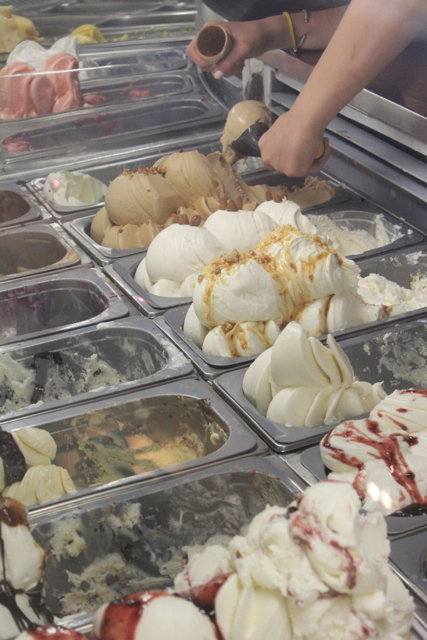 Peach and Thyme Galette
Single crust of your favorite pie crust recipe. Simply Recipe's crust never fails me.
2 peaches, washed and cut into 1/4″ slices
1 1/2 teaspoons fresh thyme leaves
2 tablespoons sugar (you may need to adjust based on sweetness of the peaches), plus 1/2 teaspoon for the top of the galette
1 tablespoon flour
1 teaspoon cinnamon
1 teaspoon butter, chilled and cut into small cubes
1 egg
1 tablespoon water
1) Pre-heat oven to 425°. Place parchment paper on a large baking sheet and set aside.
2) Toss sliced peaches, sugar, flour, cinnamon, and thyme leaves until the peaches are evenly coated. Set aside.
3) Make an egg wash. Beat egg and water together in a small bowl with a fork. Set aside.
3) On a wide, floured surface, roll out your chilled pie dough into a 12″ circle about 1/4″ thick. Carefully transfer the dough to the baking sheet.
4) Place peaches, slice by slice, in a circular pattern in the center of the dough. They should fan out about 8″ across, leaving enough excess so you can fold the dough over, but leave some peaches exposed in the center.
5) Fold the dough over and brush with the egg wash. Sprinkle with remaining 1/2 teaspoon of sugar.
6) Bake for 20 minutes, or until the crust is golden brown and the peaches are tender. Let cool for 10-15 minutes, then slice and serve with a scoop of ice cream…or gelato.