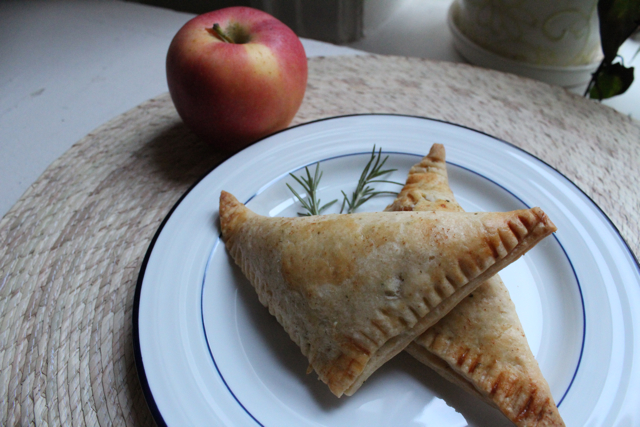 The glass of cider sitting by my computer means just one thing: we're in the midst of apple season. Bust out some apple-based pastries and crank up a Fleet Foxes song because it's time celebrate the fall harvest.
I started my celebration with a trip to an apple orchard on a perfect afternoon, complete with blue skies, sunshine, and a quarter of the New York City metro area's population. Once we passed the entry gate, we were able to find some peace in the orchard.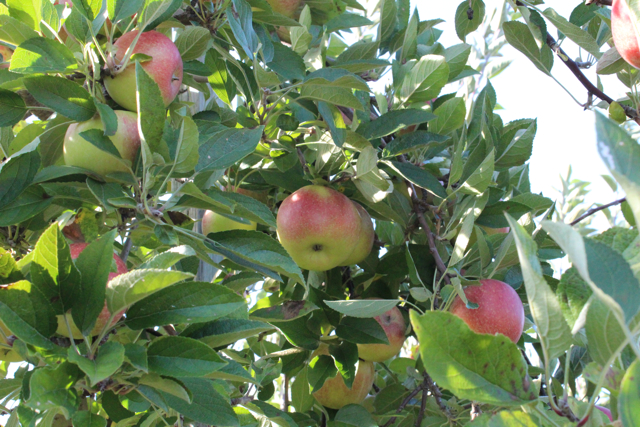 I was joined by my own personal Ben Wyatt. (Please note the over-sized American flag blowing in the autumn breeze behind him. Leslie Knope would be so proud.)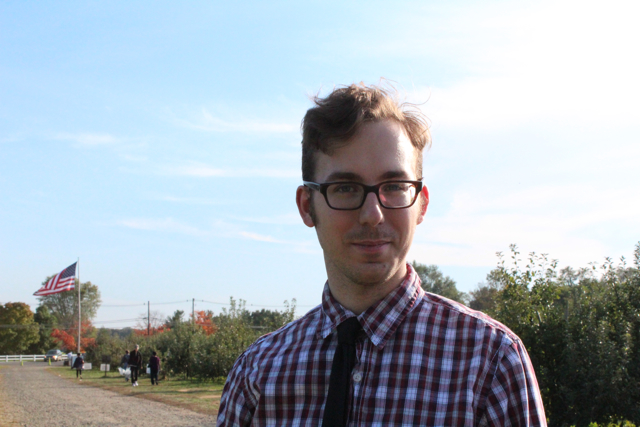 We picked five pounds of apples, but I haven't used them yet. I first had to use a few leftover Gala apples in the crisper. I found a recipe for Rosemary Apple Turnovers with Honey on The Kitchn, but gave it a new spin. Instead of putting rosemary in the filling, I baked it into the crust, and instead of sweetening the apples with honey, I used a pinch  of sugar and a drizzle of homemade caramel sauce.
Stay with me—don't let the thought of homemade caramel sauce scare you. It only takes five minutes to make and doesn't require a candy thermometer, just a watchful eye. (Elise at Simply Recipes breaks it down.) It also keeps in a mason jar in the refrigerator for two weeks. Perfect for other baking projects or late-night sundaes.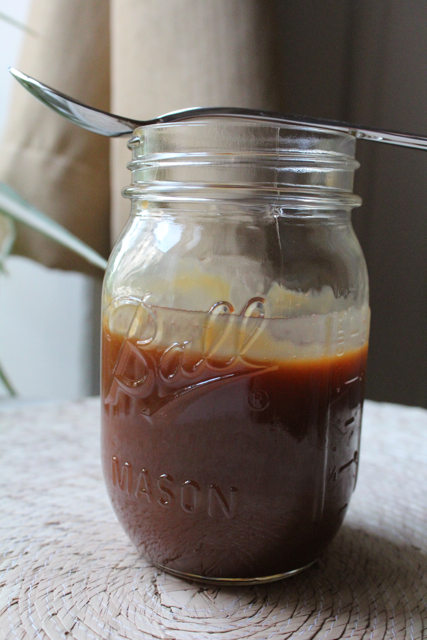 The herbed crust may sound a strange for a sweet pastry, but trust me. Your kitchen will smell great and it adds just a hint of rosemary flavor.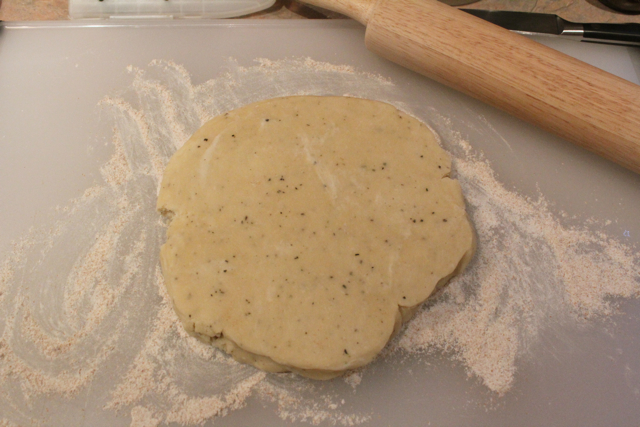 Caramel Apple Turnovers with Rosemary Crust
Makes 8 turnovers
(Inspired by The Kitchn)
Your favorite single pie crust recipe with 1 1/2 tablespoons of chopped, fresh rosemary (If you're making crust by hand, finely chop the rosemary and add it with your other dry ingredients. If you're making crust with a food processor, chop the rosemary first and then add the rest of your ingredients.)
1/3 cup caramel sauce
1 large apple, peeled, cored, and cut into 1/4″ dice
1 tsp granulated sugar
1 tbs flour
1 tsp cinnamon
1/2 tsp ground cloves
1/2 tsp pure vanilla extract
Pinch of salt
1 egg, lightly beaten with a fork
1. Preheat oven to 375°. Line a large baking sheet with parchment paper.
2. Mix diced apple, sugar, flour, cinnamon, cloves, vanilla, and salt in a medium bowl. Set aside.
3. On a lightly floured surface, roll your crust into a large rectangle (16 x 8 is ideal). Cut the sheet into eight 4 x 4 inch pieces.
4. Place a spoonful of apple mixture at the center of each pastry square leaving 3/4″ of room at the edges. Drizzle caramel sauce over the filling (I leave the amount up to you, just don't put more than a teaspoon or you'll have caramel bursting from your pastry seams).
5. Use your finger or a pastry brush to apply the egg to the edges of the pastry. Fold the crust over the apple mixture to form a triangle and seal with the tines of of a fork.
6. Brush the top of the turnover with the egg wash. Cut a few small slits in the top of the turnover to allow steam to escape.
7. Place your assembled turnovers on the lined baking sheet and bake for 25-30 minutes, until the tops are golden brown.
8. Let the turnovers cool for 20-30 minutes before serving (caramel gets hot!) and pair with your favorite cider. Or a scoop of ice cream.