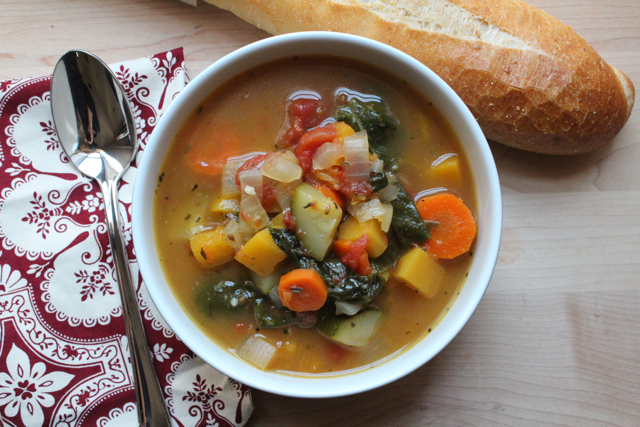 In an effort to save money, I've made a bold commitment: I'm cutting out restaurants for the rest of 2012. Exceptions will be made for social engagements, cheap lunch salads, and a standing Takeout Thursday tradition, but gone are the days of dining out. I can't justify spending $70 on dinner for two at a local Mexican place (although margaritas may constitute half the bill) while produce rots in the fridge.
It's easy to bring myself to cook on weeknights when I'm still in work mode, but weekends are tough. Saturdays and Sundays used to be a series of takeout lunches and restaurant dinners, but now I'm making soup. One large pot of soup on Friday night will last Ramsey and I through lunch on Sunday with supplements of bread, crackers, or grated cheese along the way. We don't need to worry about cooking again until Sunday night.
I made a Fall Vegetable Soup this past weekend with butternut squash, parsnips, zucchini, carrots, spinach, and onions with a few sprigs of thyme. It only cost $23 for supplies (including two boxes of store-bought vegetable broth), so if you estimate $10 per person for lunch and $25 per person for dinner throughout the weekend, that's a savings of $117.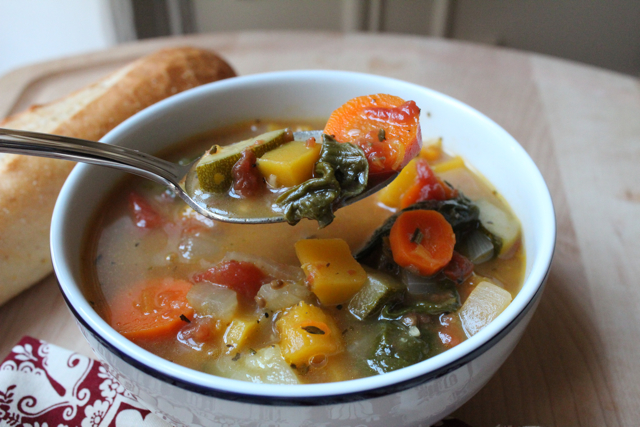 It was cheap and it taste pretty damn good.
Fall Vegetable Soup

1 tablespoon olive oil
1 tablespoon unsalted butter
1 large yellow onion, diced
3 large carrots, peeled and sliced into 1/8″ rounds
2 parsnips, peeled and cut into 1/4″ cubes
1 medium butternut squash, peeled, seeded, and cut into 1/4″ cubes
1 zucchini, cut into 1/4″ cubes
2 garlic cloves, peeled and minced
1 14.5 oz can diced tomatoes (with juices)
2 quarts vegetable or chicken broth
3 sprigs fresh thyme
1 tsp dry oregano
1 tsp dry rosemary
6 oz baby spinach, washed
Salt and pepper to taste
Grated Parmesan cheese (optional)
1. Heat oil and melt butter in a large stock pot or Dutch oven over medium-high heat. Add onion and cook until it just begins to turn translucent. Add carrots, parsnips, butternut squash, and zucchini and cook for three minutes, stirring occasionally. Add garlic and cook for another 30 seconds, stirring often. Add diced tomatoes with their juices and cook for one minute.
2. Add broth, thyme, oregano, and rosemary. Bring soup to a boil, then reduce the heat to medium-low and simmer for ten minutes or until the vegetables are tender.
3. Add spinach and simmer until wilted, about three minutes, and then add salt and pepper to taste.
4. Serve with freshly grated Parmesan cheese and a piece of good bread.