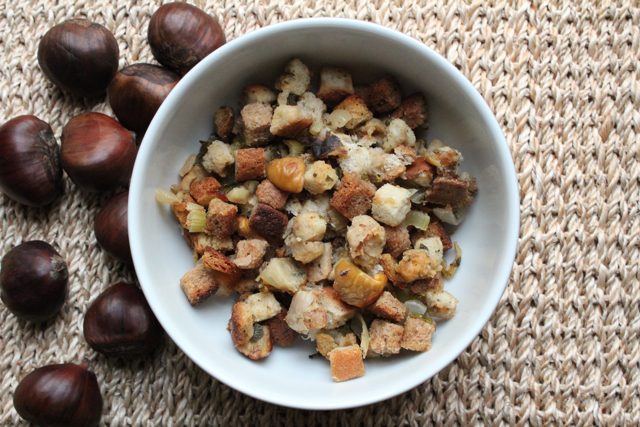 I don't want to alarm you, but I have a piece of chestnut shell lodged under the nail of my right middle finger. It's just an annoyance now, but the fact that it's there speaks to my devotion to chestnut stuffing. I made it this past weekend for a Friendgiving celebration and have enjoyed it as a side dish for every lunch and dinner since. Does a chestnut stuffing with a side of Caesar salad make a well-balanced meal?
I love chestnuts in all forms—roasted, candied, pureed in soup —but my favorite is covered in herbs among cubes of bread. It's one of my mother's signature dishes, and if you want to serve up something a little different for Thanksgiving, it's worth the potential nail trauma.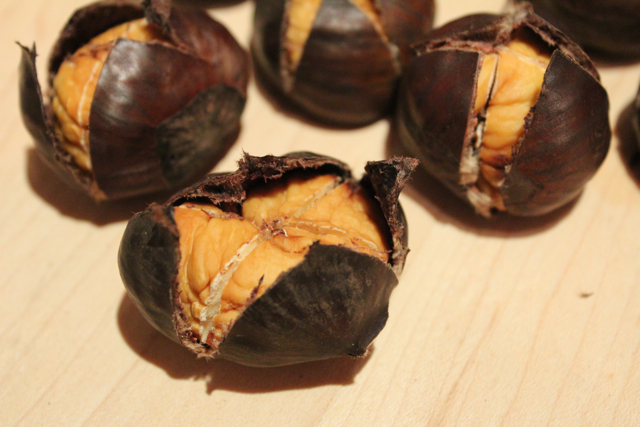 It's an easy recipe that calls for a little manual labor. To prepare the chestnuts, you need to cut Xs all the way through one side of the shells. Roast them on a baking sheet for thirty minutes at 400°F, then let them cool a bit. Peel them while their still warm and make sure to remove the hard outer shell and furry inner skin called the pellicle. Roasted Chestnut Stuffing*
Serves 12 to 15 people
Adapted from Martha Stewart

20 cups 3/4″ bread cubes (pre-packaged from the supermarket or cut from fresh loaves and dried overnight)
1.5 lbs fresh chestnuts, scored with an X
3/4 cup unsalted butter (1.5 sticks)
3 small onions, peeled and cut into 1/4″ dice
1 bunch celery, cut into 1/4″ dice
3 tablespoons finely chopped fresh sage leaves
1 tablespoon finely chopped fresh rosemary
1 teaspoon dried oregano
1 teaspoon dried thyme
5 cups low-sodium chicken or vegetable stock
1 tablespoon coarse salt
2 cups coarsely chopped flat-leaf parsley
Freshly ground pepper
If you're using fresh bread, spread the bread cubes in single layers on baking sheets. Let them dry at room temperature, uncovered, overnight.
Pre-heat the oven to 400° F. Score the flat side of each chestnut with an X, taking care to cut all the way through the skin. Roast for thirty minutes or until tender. Peel and quarter chestnuts; set aside. Peeled chestnuts can be refrigerated in an airtight container 2 to 3 days.
Melt butter in a large skillet over medium heat. Add onions and celery; cook, stirring, until onions are translucent, about 10 minutes. Add sage, rosemary, thyme, and oregano; cook 3 minutes. Stir in 1/2 cup stock; cook until reduced by half, about 5 minutes.
Transfer onion mixture to a large bowl. Add remaining 4 1/2 cups stock, the chestnuts, bread, salt, and parsley; season with pepper. Toss to combine. Transfer to a buttered 17-by-12-inch baking dish. Cover and bake at 350 degrees for 25 minutes. Uncover and bake until hot and golden brown, 30 minutes more.
*It's technically dressing when cooked outside the bird, but I won't argue with my mom or Martha Stewart.