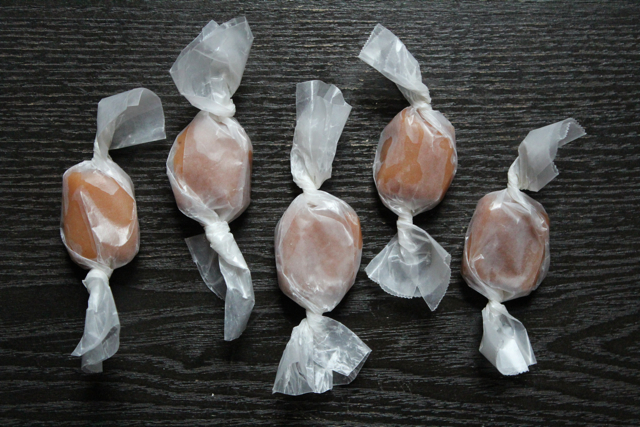 I make caramels for Christmas every year. They started as a random addition to the dessert table but they've evolved into a tradition that has me hand-wrapping hundreds of little caramel squares late on Christmas Eve-Eve. I bring them to parties and give them out to friends and family in mason jars or tins decorated with poinsettias or snowflake patterns. I usually make them with vanilla and sea salt, but in preparation for this year's batch, I experimented with a few new flavors.
Masala chai was my most successful experiment. The warm flavors of black tea, cardamom, star anise, and cinnamon mixed well with sugar and cream. Think chai latte meets chewy caramel.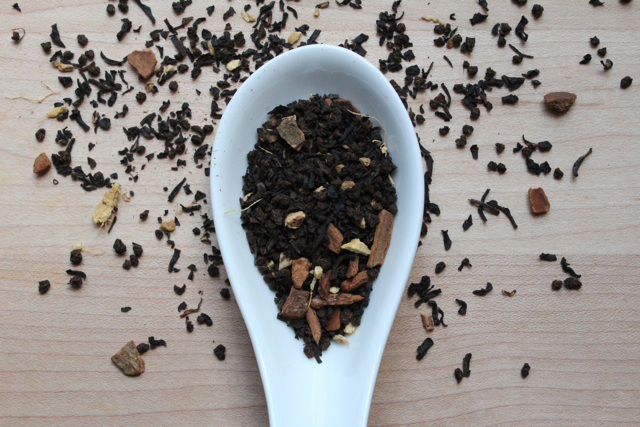 To flavor the caramel, I simmered loose chai in cream and let it steep.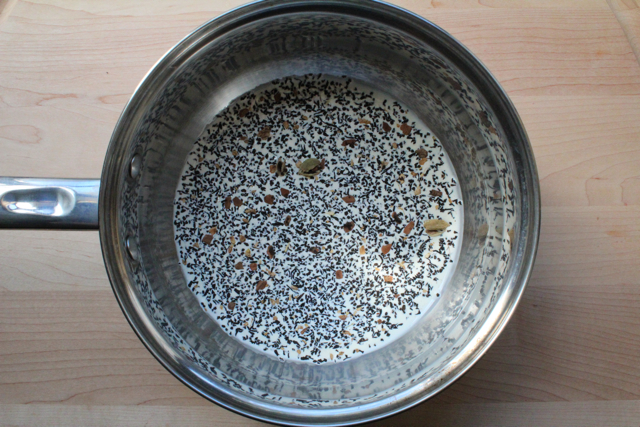 With the flavors infused, I strained the cream and used it in my standard caramel recipe.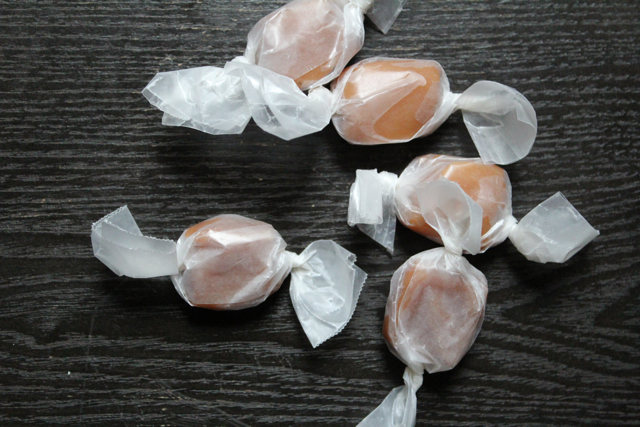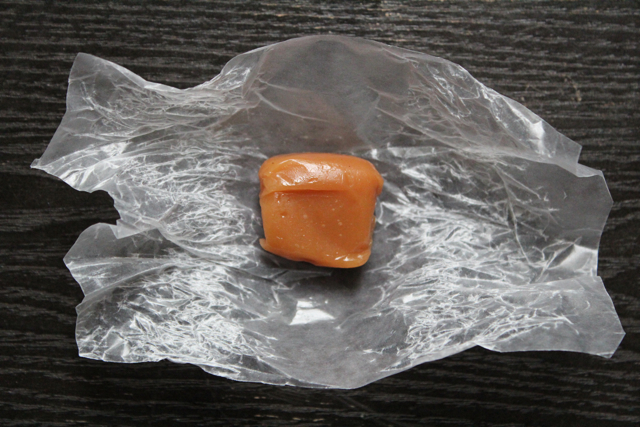 Chewy Chai Caramels
Adapted from Jacques Pepin

2 tablespoons loose masala chai
8 tablespoons butter, cut 1/2″ cubes
1/2 cup plus two tablespoons heavy cream
3 tablespoons water
1/4 cup light corn syrup
1 cup sugar
1/2 teaspoon vanilla
1. Combine cream and masala chai in a medium saucepan. Bring to a simmer and remove from heat. Cover and cool for twenty minutes.
2. Strain the cream with a fine mesh sieve. Set aside.
3. Cut the butter into 1/2″ cubes. Combine butter cubes and cream in a small bowl, and microwave for about 1 1/2 minutes until the butter melts. Stir and set aside.
4. In a small stainless steel saucepan, combine water and light corn syrup. Slowly add sugar. Stir just enough to moisten the sugar, taking care not to get it on the sides of the pan.
5. Bring mixture to a boil, then cover with a lid for a minute or so to create moisture in the pan and melt any sugar that may be clinging to the sides.
6. Clip a candy thermometer onto the pan and cook the sugar for about 6 minutes, until it reaches a temperature of 320°F (160°C), at which point it will begin to take on a light golden color around the edge. Pour the butter and cream mixture gradually into the pan, adding about a third of it at a time, and stir with the thermometer. Add vanilla and stir again.
7. Continue cooking for another 5 or 6 minutes until the mixture reaches a temperature of 242°F (115°C).
8. Pour the caramel into an oiled loaf pan with a base that measures about 7 1/2 inches long by about 3 1/2 inches wide, lined with a strip of oiled parchment paper that is long enough to extend up and slightly over either end of the pan.
9. Cool, uncovered, at room temperature for about 4 hours. Invert onto a cutting board (pulling gently on the paper strips, if necessary). Cut into squares about 1/2″ wide. Wrap in squares of waxed paper. Store in an airtight container.