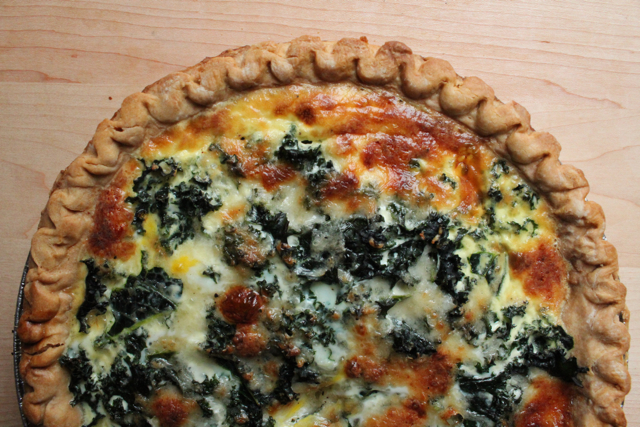 I know the normal response to cold weather is loading up on carbs, but my body craves greens. It could be a reaction to the lack of sunshine or seasonal produce in the Northeast, but either way, I tore into an arugula salad with lemon juice and Parmesan cheese at Westville this past weekend and it was the best meal I'd had in days. If Ramsey is out for the night and I'm cooking for one, I'll saute dark green kale leaves and shallots in olive oil while steaming cubes of sweet potato. I top it all with a poached egg and it's a perfect winter meal.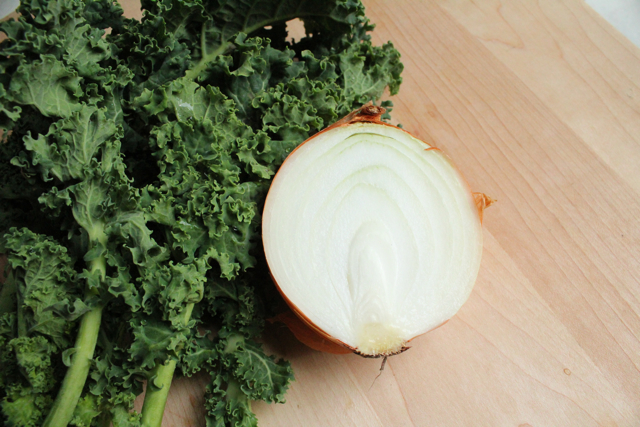 Winter greens can also follow a less healthy path—a dark, delicious path lined with cream, egg yolks, cheese, and salted pork that leads to just one destination: quiche.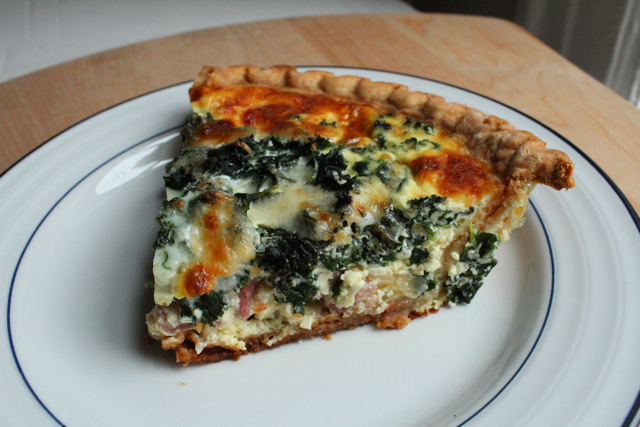 Temperatures dropped into the teens in New York this week, so I channeled my leafy greens craving into a kale, onion, Swiss, and pancetta quiche. Full disclosure: The crust was store bought, but you probably guessed it from the photo. I left the crimping to Pillsbury.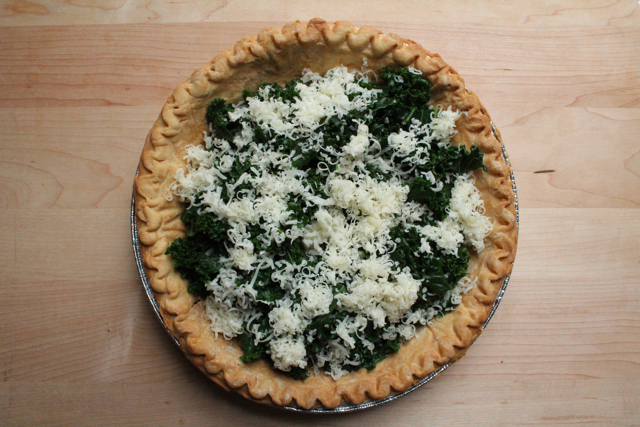 Additional disclosure: My stove is slanted. Custards, brownies, cakes, and all other baked goods all come out a little uneven and tilted towards the back of the oven. I'm not sure how to fix it, but I bet it'll take more than a few sugar packets and determination. Alas.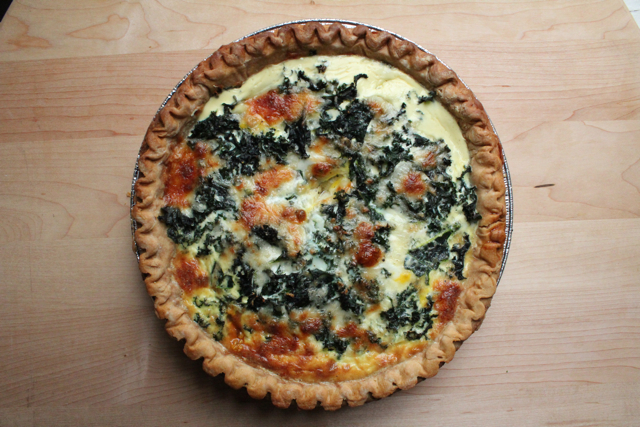 (Lopsided) Winter Quiche
A single pie crust
4 eggs
1 1/4 cups half & half
1/2 cup pancetta, cut into 1 cm cubes
1 small yellow onion
1 tbs. butter
1 bunch kale, washed and ripped into pieces about 1 1/2″ by 1 1/2″ (You could also cut the leaves into ribbons if you're feeling ambitious)
4 oz. grated Swiss cheese, grated
1/2 tsp. kosher salt
1/4 tsp. black pepper
1) Preheat oven to 350°.
2) Place the pie crust in a lightly greased pie pan and refrigerate for 30 minutes. Once chilled, remove the pan from the fridge, place it on a baking sheet, and cover the crust with parchment paper. Add pie weights (dry beans or ceramic baking weights) and bake for 15 minutes. Remove the weights, discard the parchment paper, and poke the bottom of the crust with a fork in a number of spots. Place it back in the oven to bake for another 10 minutes.
3) While the crust is baking, put a large pot of water on to boil. Once boiling, add the kale and cook for three minutes. Remove with a slotted spoon and place the ripped leaves on a kitchen or paper towel. Pat dry.
4) Melt the butter in a medium skillet and cook the onion over medium heat for 5-6 minutes, or until translucent and tender. Add the pancetta and saute with the onions for 4 minutes. Meanwhile, beat the eggs, half-and-half, salt, and pepper in a medium bowl and set aside.
5) When the crust is done, allow to cool for 5-10 minutes. Use a slotted spoon to line the bottom of the crust with the cooked onion onion and pancetta, then top with the kale. Sprinkle evenly with the grated Swiss cheese. Finally, pour the egg and cream mixture on top.
6) Bake for 40-45 minutes, or until the eggs are set and the top of the quiche is nicely browned.