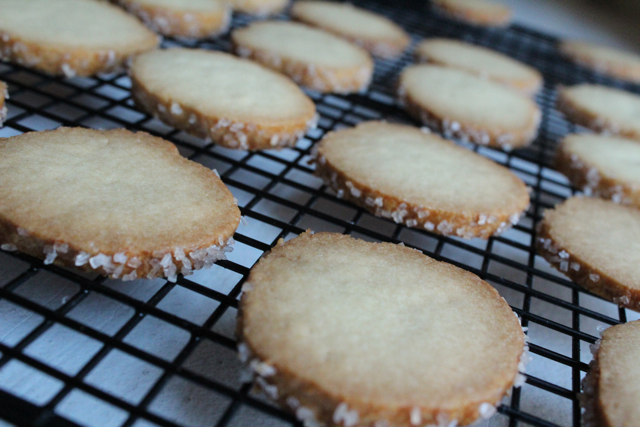 Inspired by my trip to Beurre & Sel, I made sables on Sunday for a sketching get together. Not "sketchy" or "sketch," but sketching, as in drawing still lifes in little notebooks with pencils and charcoal. We sat in a circle and drew containers and flowers on tables draped with cloth, taking plenty of breaks for snacks.
My drawing skills have progressed little since middle school even though I took a class last fall where were drew bicycles, car motors, and nudes. I think that's why I turn to photography and flower arranging for the visual arts. I can assemble beautiful things, but it's difficult for me to translate life to lines on paper. Everything's misshapen and slants ten degrees to the right. I even find it difficult to cut straight lines with my knife in the kitchen. My hands don't listen. Proof: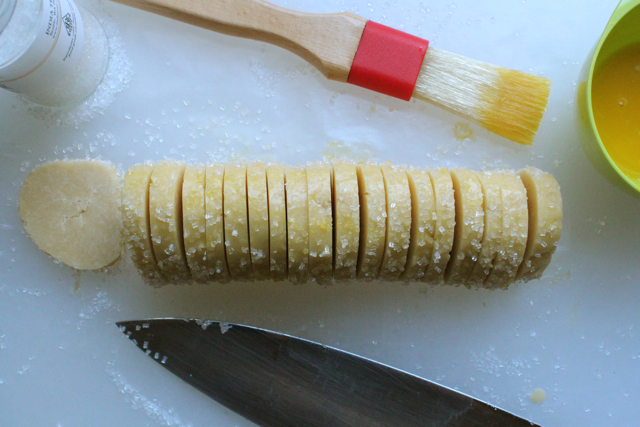 Sables are very forgiving, though. As long as I don't cut them less than 1/3″-thick, they don't burn.
They're also easy to make as long as you have plenty of butter. They're often called French butter cookies for a reason…that reason being 16 tablespoons of butter. The recipe also calls for granulated sugar, confectioners sugar, egg yolks, salt, and flour.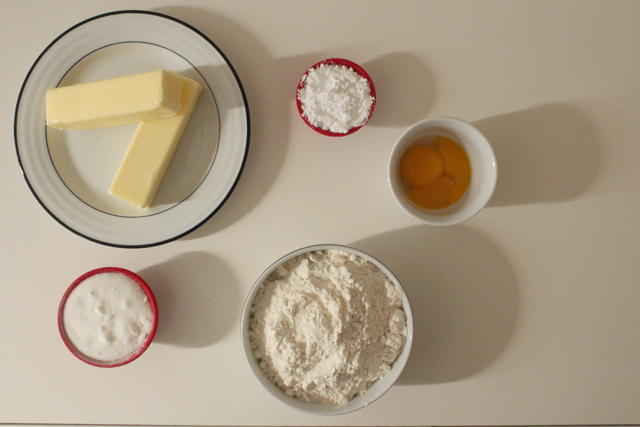 Dorie advises that you should use high-fat butter ("like Plugra"), but I used what I already had in my refrigerator. I think the cookies still turned out well, but I'm sure they have a richer flavor if you pump up that butter fat.
Sable translates to "sand" in French, and as I prepared the dough, I could see why. You could make a beautiful cookie castle with this dough. The baked cookies are also quick to crumble if you aren't careful.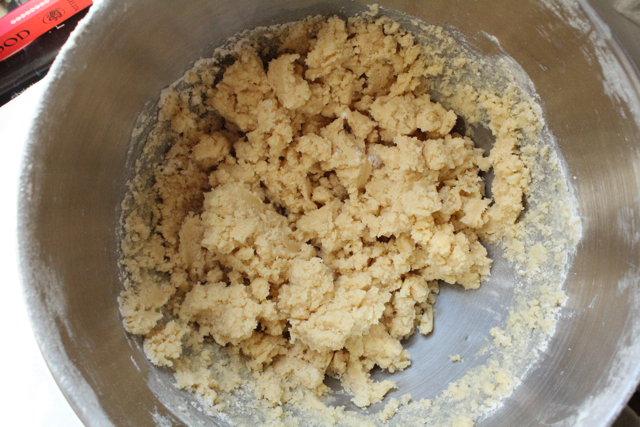 Once you prepare the dough, you need to roll it into two logs, brush the logs with egg yolk, and cover them with dazzle sugar. Nothing says decadence like a baking product that could double as cosmetics for an 8th grade girl. The sparkle! I imagined this song as the soundtrack to sprinkling sugar on the dough. Think slow motion, dramatic shots of falling sugar, me using a pastry brush covered in egg yolk as a microphone—a normal Sunday in the kitchen.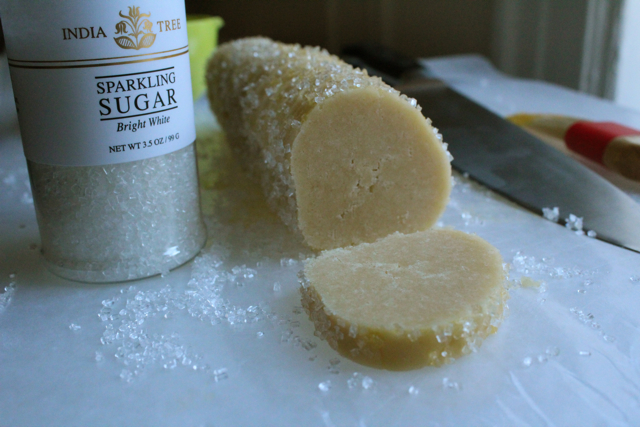 I don't think that's what Rihanna had in mind.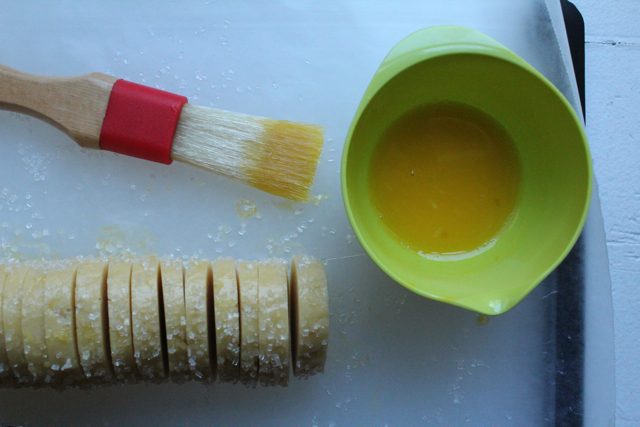 The sliced cookies need about fifteen minutes to bake. They stay pale on top, but the sugar-coated edges turn golden brown. I love the contrast of the dough and sugar.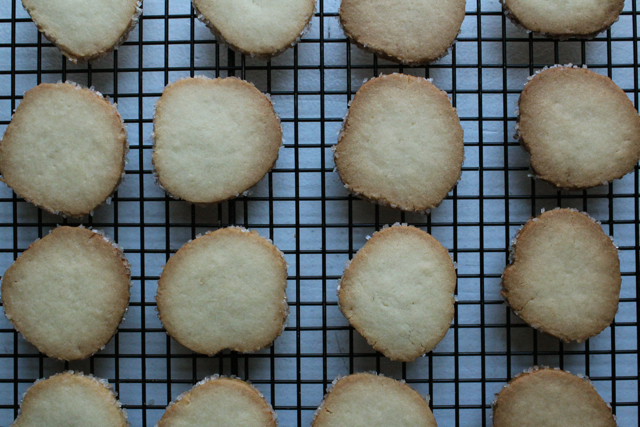 Dorie Greenspan's Master Recipe for Sables
Makes about 50 cookies
From the New York Times

2 sticks (8 ounces) unsalted butter, softened at room temperature
1/2 cup granulated sugar
1/4 cup confectioners' sugar, sifted before measuring
1/2 teaspoon salt, preferably sea salt
3 large egg yolks, preferably at room temperature
2 cups all-purpose flour
Dazzle or sparkling sugar
1. Beat the butter in a mixer at medium speed until smooth. Add the granulated sugar, confectioners sugar, and salt and beat until smooth, about one minute. Reduce the mixer speed to low and add two egg yolks. Beat until combined.
2. Add the flour all at once, beating at low speed until it just disappears. Split the dough in half and shape each half into a log about 9 inches long. Wrap each log in plastic wrap and chill for at least two hours.
3. Once the dough is chilled, preheat the oven to 350°. Unwrap the logs and place them on a sheet of wax paper or a cutting board. Beat the remaining egg yolk with a fork, then use a pastry brush to coat each log with the yolk. Sprinkle the logs evenly with sugar and cut into 1/3″-thick slices. Transfer the slices to baking sheets lined with silpat mats or parchment paper.
4. Bake for 15 minutes, or until the tops of the cookies are pale but the edges are golden brown. Cool on a wire rack and store in an airtight container.