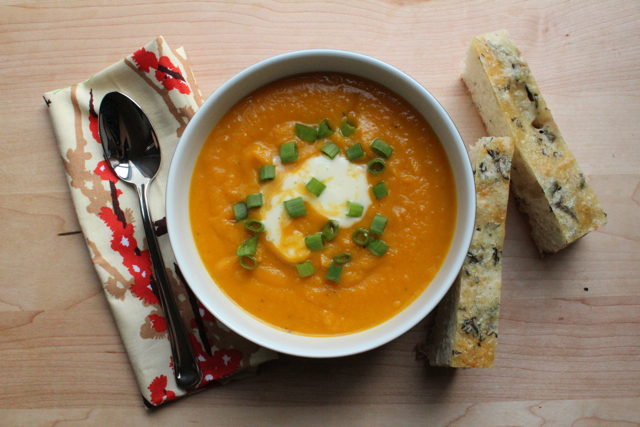 I was gluttonous this weekend. Like the many other people in the US, I spent Sunday night watching TV and eating classic Super Bowl foods. I had a chicken finger sub, nachos with sour cream and guacamole, potato chips, and tall silver cans of Sixpoint Sweet Action. This would have been a fine exception to my usual diet, but on Friday, I had a meal at Do or Dine that involved deep-fried deviled eggs and a foie gras doughnut (a classic sugar doughnut from Dough filled with fruit preserves and foie gras).
The weekend was worth every bite, but my body is sluggish and swollen. I need to clean up my diet with home-cooked meals that cut down on dairy and bread, and I'm starting with a butternut squash and sweet potato soup that's full of pureed vegetables. (Trust me, it tastes better than it sounds.) I made a big pot of it Sunday afternoon before Super Bowl festivities began for quick, healthy dinners this week.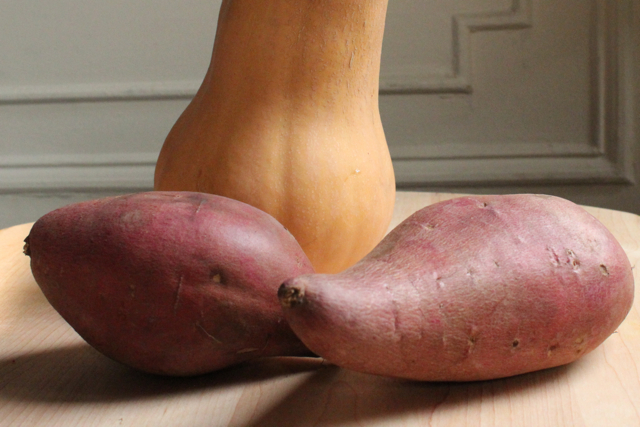 The squash and potatoes are naturally sweet, and once they combined with carrots, celery, onion, and a quart of low-sodium vegetable broth, they simmered into a rich, dairy-free soup.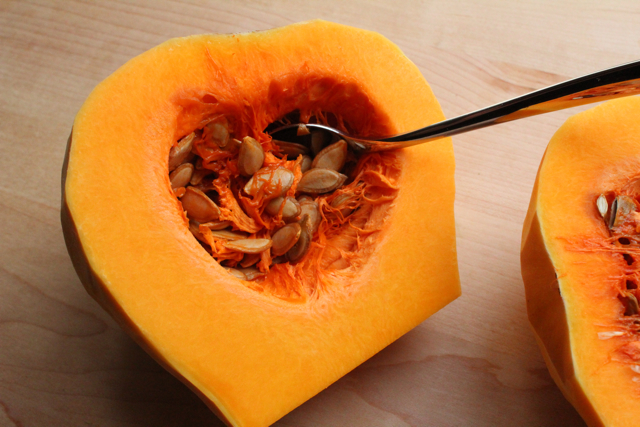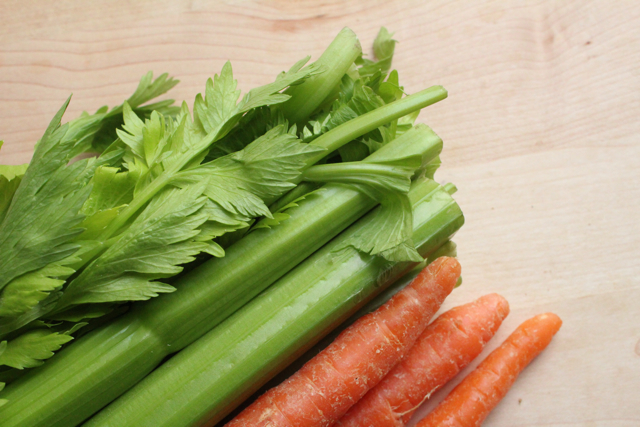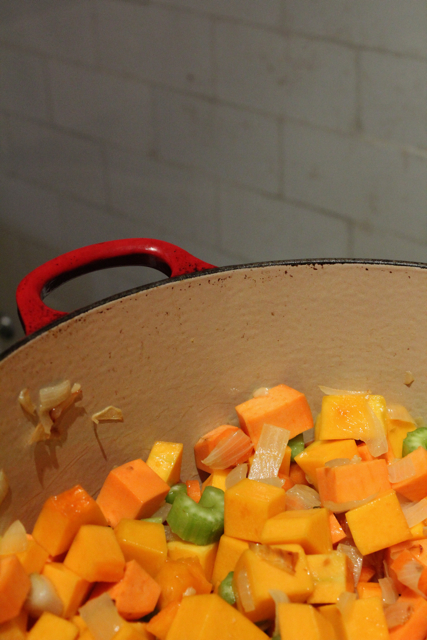 When the vegetables were tender, I used an immersion blender to change them from a pot of cubes and broth into a smooth soup; a soup as smooth as orange velvet, but full of vitamins and minerals and way less tacky. (If you don't have an immersion blender, you can pour batches into a regular blender or food processor and then recombine everything in your soup pot.) Once blended, a dash of warm spices like nutmeg and ginger brought out the sweet flavors of the squash, potato, and carrot.
I'm not totally sworn off dairy, so I let myself indulge in a small dollop of crème fraîche. If you don't have it at you local grocery store, sour cream is a good substitute, but it has a more tangy flavor.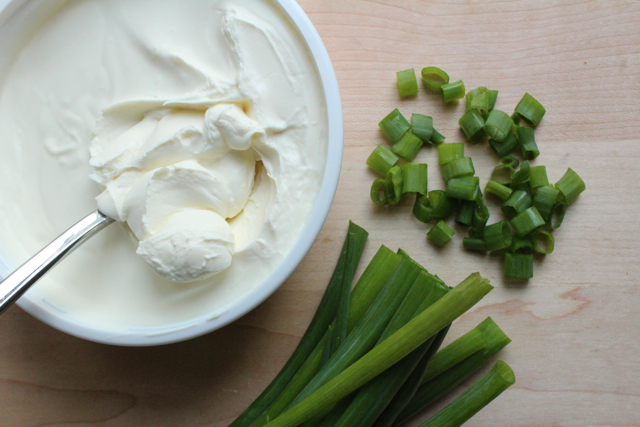 I topped the soup with green onions for some added zest and texture, and then watched the crème fraîche melt away.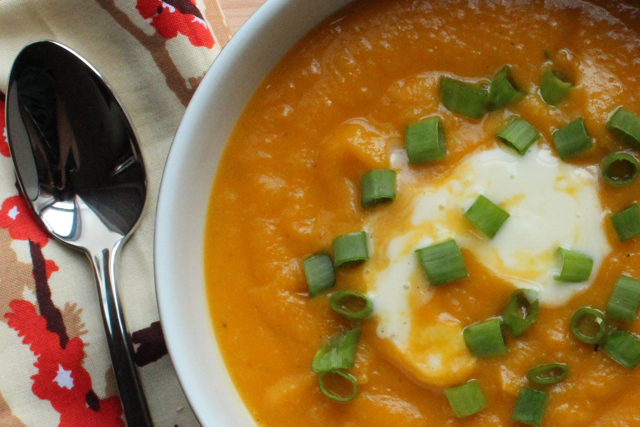 Butternut Squash and Sweet Potato Soup
Makes about 4 main dish servings
1 2-2 1/2 pound butternut squash, peeled, seeded, and cut into 1/2″ cubes
2 sweet potatoes, peeled and cut into 1/2″ cubes
2 celery stalks, sliced into 1/4″-thick pieces
2 carrots, peeled and sliced into 1/4″-thick rounds
1 medium onion, chopped into 1/4″ dice
1 clove garlic, minced
1 quart low-sodium vegetable broth
1/2 teaspoon nutmeg
1/2 teaspoon ground ginger
1/2 teaspoon dried sage
1 tablespoon olive oil
1 tablespoon butter
Salt and freshly ground pepper to taste
Optional:
Crème fraîche
Green onions, sliced thin
1. Combine butter and olive oil in a heavy stockpot over medium-high heat. Once the butter is melted, add the onions and reduce the heat to medium. Cook until the onion is translucent, stirring often. Add the garlic and cook for 30 seconds, or until fragrant. Add the squash, potato, celery, and carrots increase heat to medium-high. Cook for 8 minutes.
2. Add the vegetable broth and bring to a boil. Reduce to a simmer and cook for about 10 minutes, or until vegetables are tender.
3. Use an immersion blender to puree the soup until it's smooth. (If you don't have an immersion blender, pour the soup into a regular blender or food processor in batches, and then recombine in the large pot.) Add the nutmeg, ginger, and sage, and then add salt and pepper to taste. Serve topped with a dollop of crème fraîche and sprinkling of green onions, if desired.