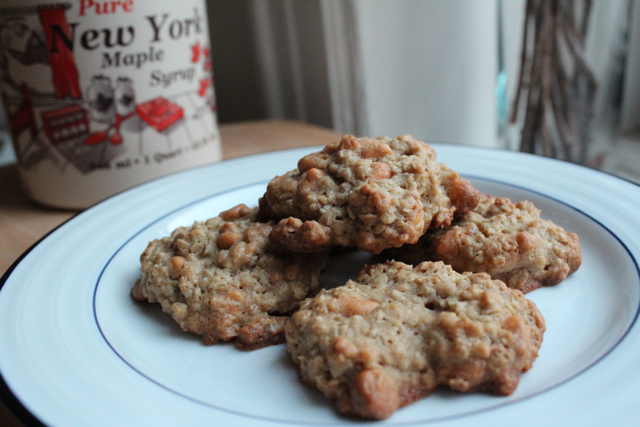 Have you ever wondered what a state would taste like? If you've been curious about the flavor of the state of Vermont, I present Butterscotch Maple Oatmeal Cookies. They're a little rustic and rough, but they have pockets of sweetness like a quaint village you might find on one of the state's many country roads. They don't flatten out like a typical cookie, leaving them mountainous with jagged brown peaks. They're also a bit unusual, because when I think of Vermont, I think offbeat.
My college summers lent themselves to weekend trips to cities throughout New England, and back in the summer between my junior and senior years, my friend Vince and I traveled to Vermont to visit our friend Allie. I remember it was perfect driving weather with blue skies stretching over rural highways. Every few miles, we passed a sign for local farms that listed the their names, logos, and distance from the main road. We saw signs for apple orchards and dairy farms, but when we spotted a sign with the silhouette of a long-legged bird, the words "EMU FARM," and an arrow directing us a few miles to the west, we had to follow it. Ten minutes later we were face to face with a flock of giant brown beasts.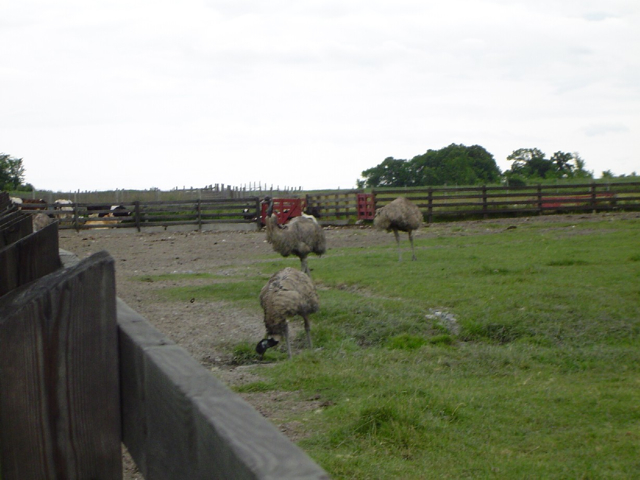 We didn't dare lean over the fence to touch the birds, but a sign stapled to a post informed us that "emu products" were for sale at the white farmhouse a few hundred yards away. We'd already driven to an emu farm, so we wanted to leave with something to show for it. I pulled my car into the farmhouse driveway and Vince and I walked up to the front door. We rang the bell. No response.
We walked around back to see if anyone was working outside, but all we found were two calves staring out at us from a barn and a very protective farm dog. He started growling, and we, two 20-something suburban kids unsure of what to do, started backing away towards the car. The back door of the house suddenly swung open and there stood a fifteen or sixteen-year-old girl dressed in pajama pants and a t-shirt. We must have cut into her adolescent summer sleep schedule. She called to the dog and calmed him down as we explained we wanted to buy some emu products. Apparently a normal, everyday request, she invited us into the house's laundry room where she pulled a box of tiny bottles of emu oil off a shelf above the dryer.  I don't remember how much we paid, but we left with a small bottle of oil and lots of emu literature heralding the oil's anti-inflammatory properties. The oil smelled awful and the literature is probably still in a drawer in my childhood bedroom, but it was a rare chance to see giant Australian birds in the Vermont countryside.
Which brings me back to the cookies. They're combination of the classic and unexpected, like a perfect Vermont farmhouse next to a field full of emus. Maple, brown sugar, oats…and butterscotch.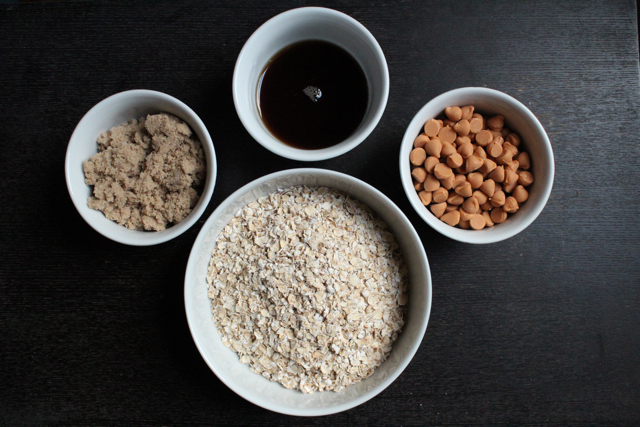 If you're feeling ambitious and flush with cash, you could also add macadamia nuts, but I think these cookies are fancy enough on their own.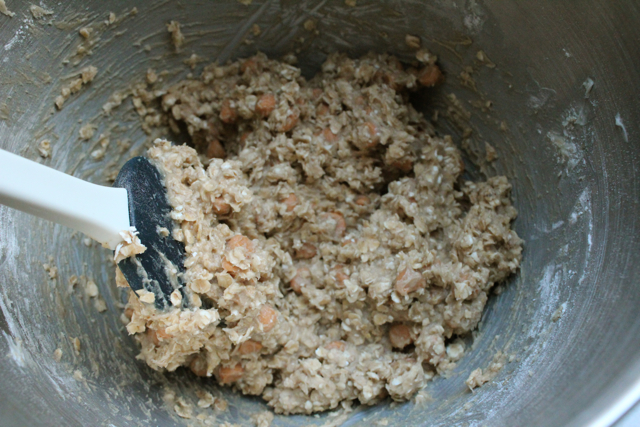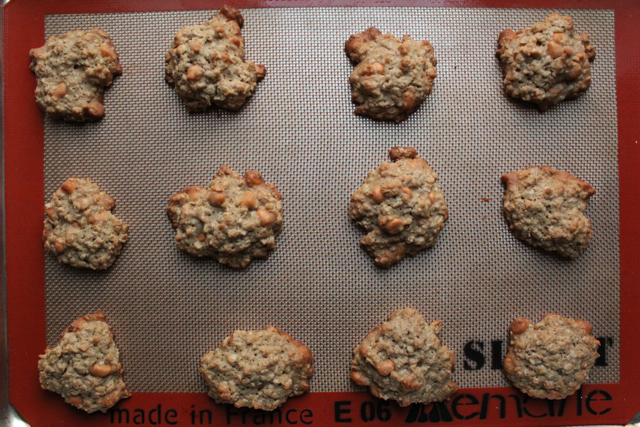 Oatmeal Butterscotch Maple Cookies
Makes 2 dozen cookies
1/2 cup (1 stick) butter, softened
1/2 cup light brown sugar, packed
1 egg
1/2 teaspoon vanilla extract
1/4 cup maple syrup
3/4 cup all-purpose flour
1/2 teaspoon baking soda
1/2 teaspoon ground cinnamon
1/2 teaspoon ground ginger
1/4 teaspoon salt
1 1/2 cups rolled oats
3/4 cup butterscotch chips
1. Pre-heat oven to 350º.
2. In a large bowl, cream together butter, sugar, egg, and vanilla until smooth. Reduce mixer speed to low and add the maple syrup.
3. In a separate bowl, mix the flour, baking soda, cinnamon, ginger, and salt. Mix into the butter and sugar mixture just until the flour disappears.
4. Fold in the oats and butterscotch chips with a wooden spoon until they're evenly distributed and coated with batter. At this point, you can chill the batter if desired or bake right away. Chilling will give you thicker cookies.
5. Line a baking sheet with parchment paper or a Silpat baking mat. Place the cookies two inches apart on the sheet and bake for 10-12 minutes, or until the edges of the cookies are golden brown but they're still a bit soft in the middle. Let the cookies cool on the sheet for three minutes and then move to a cooling rack.