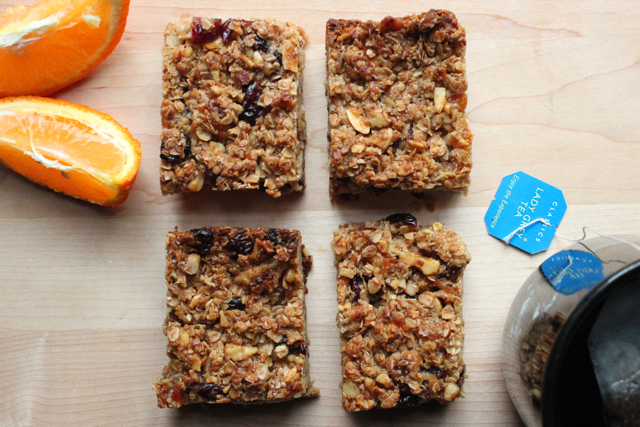 Did you know that a box of thirteen custom granola bars costs $38? $38! That's enough for a reasonably fancy dinner with a cocktail. Or two paperback books. Or a cute blouse on ModCloth. Or anything on BuzzFeed's list of "27 Way More Awesome Things To Buy With $38 Than Facebook Stock." In short, too much money for granola bars when making them from scratch takes ten minutes, not counting baking time. You can pick the dried fruit, nuts, and other ingredients you like in the amounts that you like without dropping a lot of money and sacrificing your tastes to a store-bought bar in a box.
But are they healthy? Well, not "healthy" per se, but they taste damn good. My recipe calls for brown sugar, honey, and even the dreaded corn syrup, but you can experiment with other sweeteners and food glues. For example, Mark Bittman uses nut butter and honey to sweeten his bars and hold them together.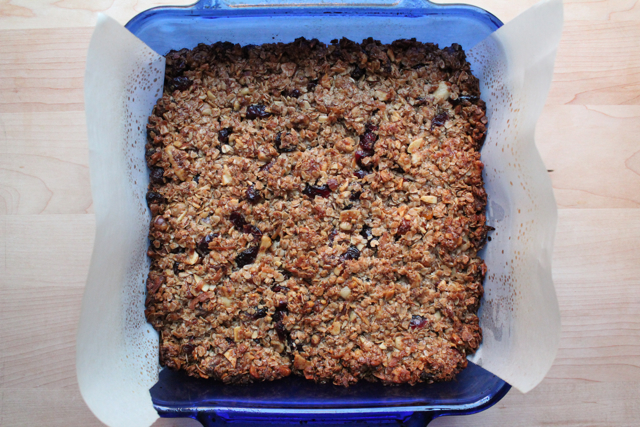 My bars do have plenty of dried fruit, oats, and nuts, so at least they have some fiber…right? Have my breakfasts all this week been at least somewhat healthy? Please say yes so that I can continue to eat them at my desk with a smug grin on my face that says, "Yes. I made this myself." A grin that hides the amount of sugar and corn syrup I used and the fact that I packed the bar in a non-compostable piece of plastic wrap.
I don't think I'm just talking about granola guilt anymore.
Anyway, granola! Look at that. All of those ingredients mixed in the bowl, ready to be baked. Let's get to the recipe.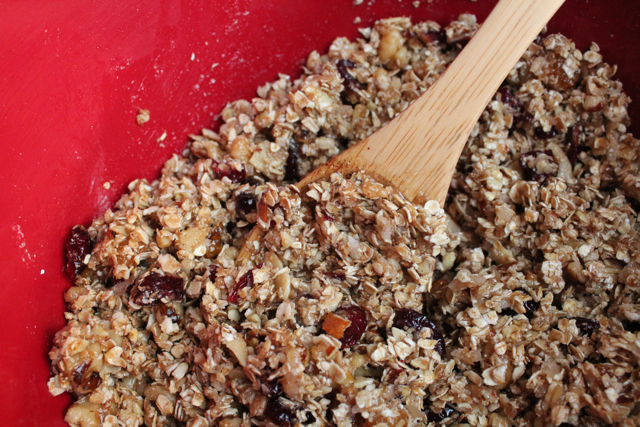 Chewy Granola Bars
Adapted from Smitten Kitchen
1 2/3 cups quick rolled oats
1/2 light brown sugar
1/3 cup oat flour (or 1/3 cup oats, processed till finely ground in a food processor or blender)
1/2 teaspoon salt
1/4 teaspoon ground cinnamon
1/4 teaspoon ground ginger
2 to 3 cups dried fruits and nuts of your choosing (I used apricots, dried cranberries, toasted coconut, and wheat germ)
1 teaspoon vanilla extract
6 tablespoons melted butter
1/4 cup honey, maple syrup or corn syrup (I used honey)
 2 tablespoons light corn syrup
1 tablespoon water
1. Preheat the oven to 350°. Place a piece of parchment paper in a 9″ x 9″ x 2″ baking pan, leaving some paper hanging from the edges. This will help you get the bars out once they're baked.
2. Mix all of the dry ingredients in a large bowl. In a smaller bowl, whisk together the melted butter, honey (or maple or corn syrup), vanilla, corn syrup, and water. Add the liquid to the dry ingredients and toss with a large spoon until everything is coated evenly.
3. Press the granola into the prepared pan, taking care to push it into the corners and to the edges. Bake them for 30-40 minutes, or until the edges are golden brown.
4. Cool the bars in the pan on a wire rack. After 20 minutes, you can pull the bars out and let them continue cooling until they reach room temperature. Cut them into 3″ x 2″ bars and store in an airtight container or wrap them individually in plastic wrap.