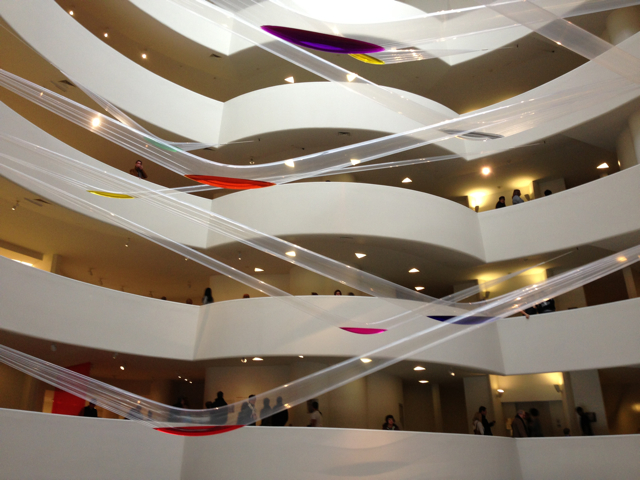 I love exploring New York with friends, but every few weeks, I take a solo trip. Without anyone to talk to, the city becomes my focus for the day. Museums are one of my favorite solo stops, and on Saturday, I went to the Guggenheim to see two new exhibitions. The first was Gutai: Splendid Playground, a retrospective of the avant-guarde Gutai art collective in Japan. The rotunda was spanned by giant polyethylene tubes filled with colored water, with each tube climbing higher than the next until they reached the skylight at the center of the ceiling. The rest of the works had a similar playful feel; some were interactive and others were created during artist performances when they would paint with their feet or use small motorized cars to draw chaotic, Pollack-like sketches. Television screens showed recordings of the process by many of the works. The second exhibition was Zarina: Paper Like Skin, a retrospective of the artist's minimalist prints and other works, including intricate woven paper strips and a huge piece of paper covered in gold leaf. It was the first exhibition I've been to where I thought, "I want to hang all of this in my house." You can see a few examples here.
After the museum, I went to Cha-An Teahouse on the Lower East Side. If you've never treated yourself to a full afternoon tea, or just lingered over a meal in a peaceful restaurant on a Saturday afternoon, I highly recommend it. Their afternoon tea set started with two warm rolls made with dough that reminded me of a soft pretzel. One was filled with smoked salmon, cilantro, and mustard, and the other had a sweet strawberry butter spread.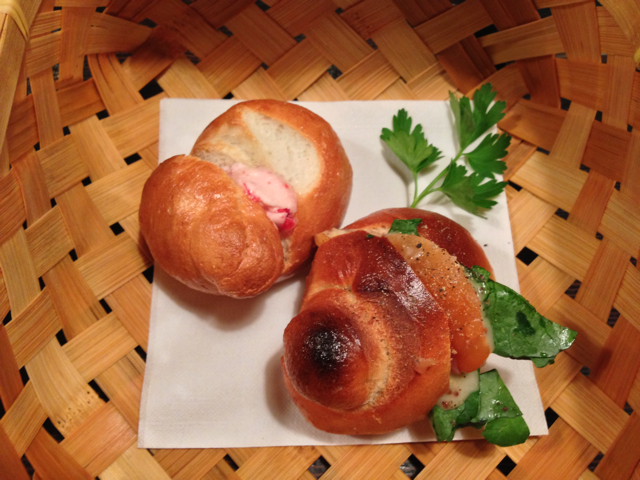 Once I finished the rolls, the sweets arrived. This was the moment I wished for a companion because there was no way I could finish five desserts between sips of my lemon verbena tea. There were two chocolate scones, a chocolate and walnut brownie, a muffin with apple puree and pecans (?), and a banana and/or earl gray sponge cake.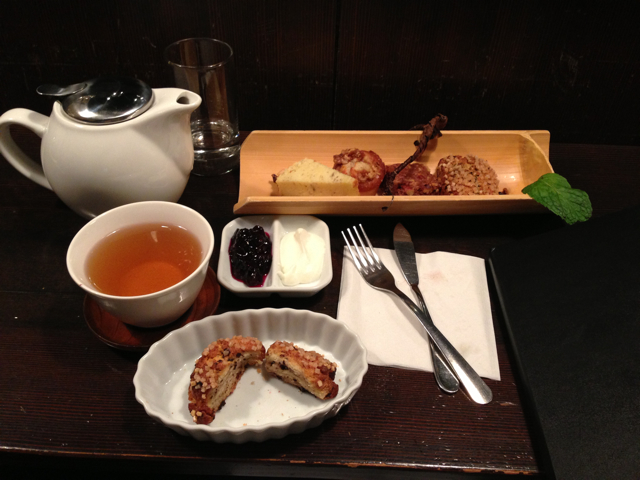 When I go back, I think I'll skip the full tea set and just get tea and Cha-An's fabled black sesame creme brulee. I completely missed it on the menu, but post-tea internet research suggests it's amazing.
After a meditative Saturday, I woke up on Sunday with plans to celebrate the Lunar New Year. Things got a little crazy.
Ramsey and I went to Mission Chinese for lunch, which, yes, I will admit it: I was inspired to go to because Anthony Bourdain tweeted about it on Valentine's Day. The restaurant was on lots of best-of lists in 2012, so I could have played this off, but no. I follow the advice of celebrity chefs on occasion.
Mission Chinese starts serving lunch at noon, but Ramsey and I got there a little after 11:30. We expected to walk around the Lower East Side until the doors opened, but people were already waiting on the street. We were third in line, and over the course of the next half hour, forty people lined up behind us while at least ten disgruntled apartment tenants that live above the restaurant pushed by us with their morning coffee. I've added "culinary hot-spot" to my list of places I never want to live above, right behind a bar, a pizza place, and a strip club.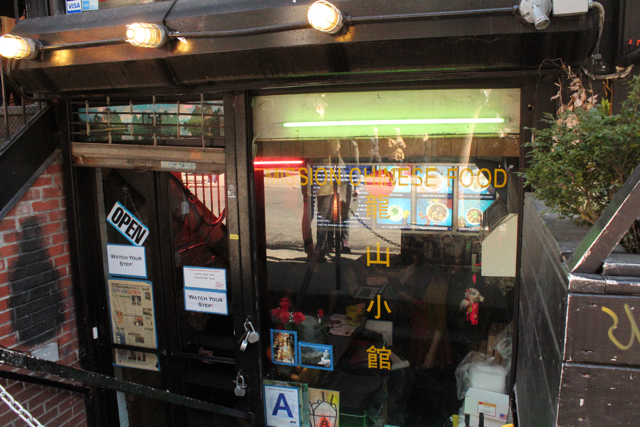 We got in right at noon and the host led us through a classic Chinese take-out storefront to the dining room in the back. We ordered a small dish of hainanese eggplant with ginger and cilantro and the sizzling cumin lamb served with dates, long beans, and onions.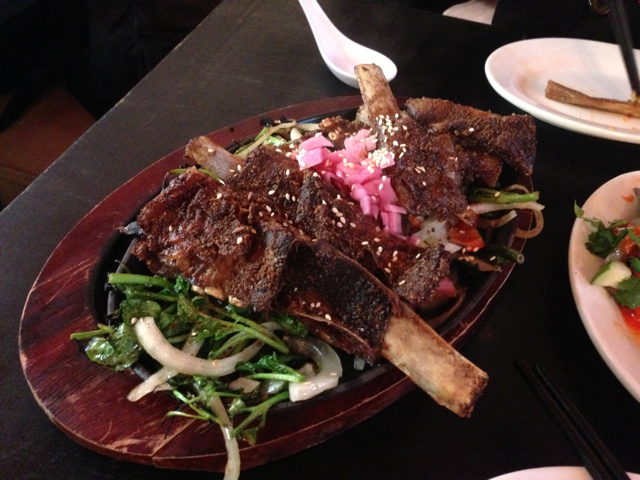 We also ordered the chicken wings with "explosive chili." I still don't know what was in that spice blend, but it felt like tiny pop rocks exploding in my mouth. Very spicy pop rocks. Ramsey still hasn't fully recovered, but confirms that it was worth it. And with the whole generously-portioned meal with drinks coming in under $40? Worth the half hour in the cold. We'll be back.
We then took the subway down to East Broadway to catch the Lunar New Year Parade that was weaving through Chinatown. Before the parade arrived, we staked our spot along an empty length of police barricade. The moment the parade was in sight, we were pressed against the barricade and tourists' and locals' cameras were shoved over my shoulders. We only lasted in the crush and cold for fifteen minutes, but we saw tiny dragons: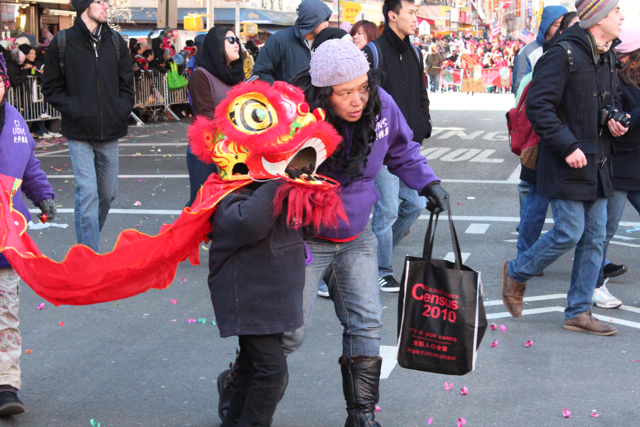 Big dragons taunting scary dogs: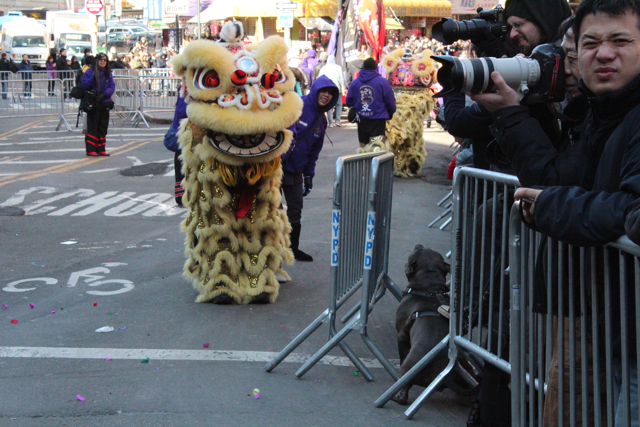 Ornate costumes: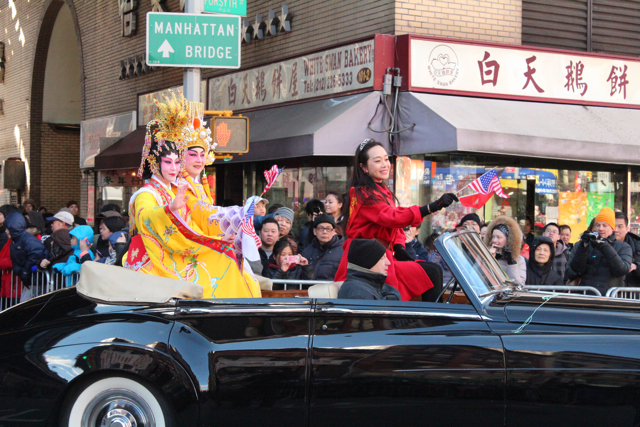 Lots of people waving things: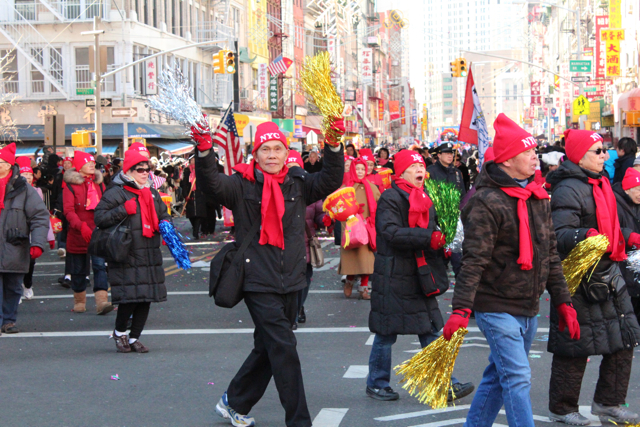 Confetti explosions: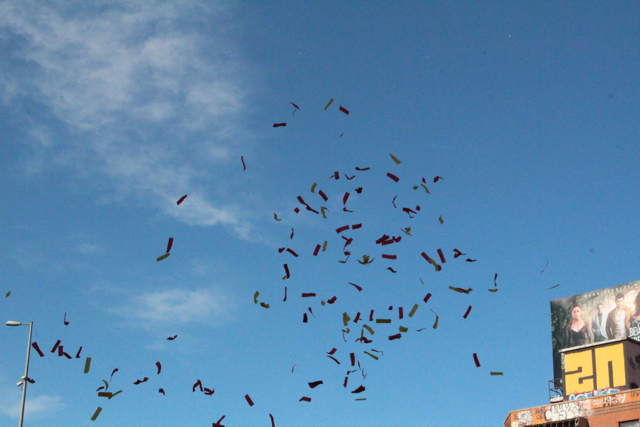 And of course, Senator Chuck Schumer wishing the crowd a happy New Year through a bullhorn.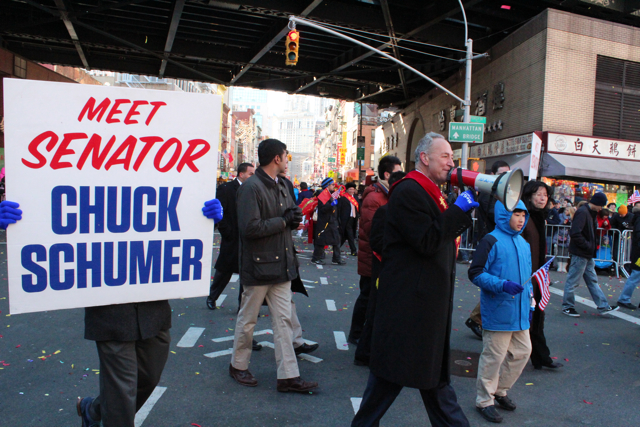 To end our day, we got a coconut cream and an almond bun on our way out of Chinatown.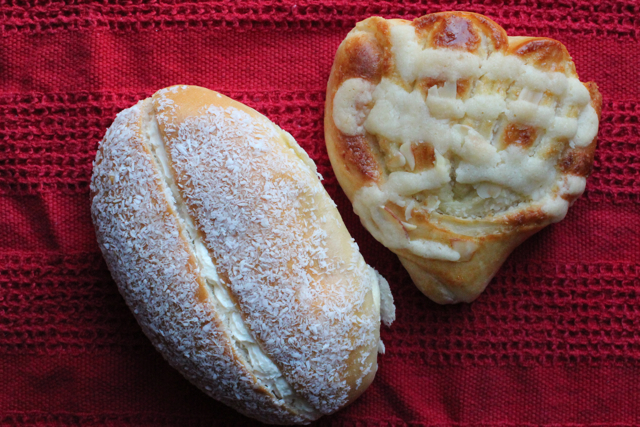 Now I'm ending my weekend the way it began: by myself and writing with a mug of lemon verbena tea.