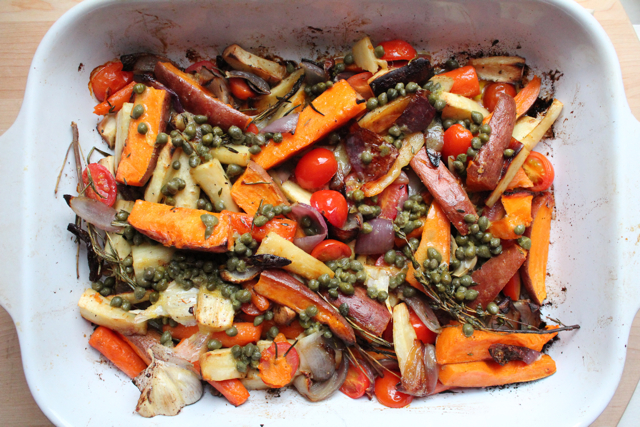 I'm still working my way through a bag of lemons in the fridge. Lemon curd seemed like an obvious way to use all of them at once, but I'm trying to keep sweets out of the house. A cup of lemon curd would be gone in about 48 hours, spread on scones and spoons for breakfast and afternoon snacks. Using just one lemon for a pan of roasted vegetables was a better option, especially when it was for a recipe adapted (slightly) from Yotam Ottolenghi's vegetarian cookbook, Plenty.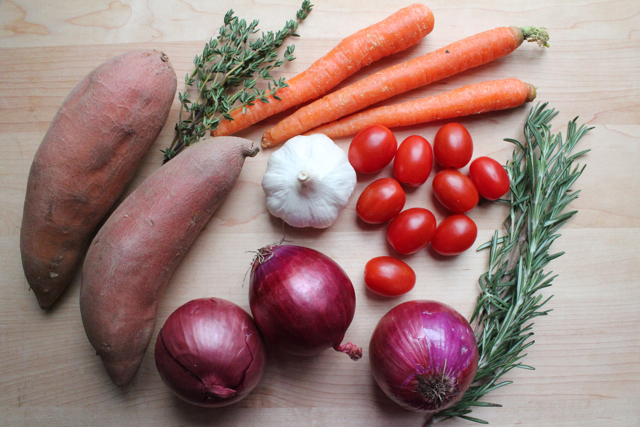 The recipe roasts root vegetables and tomatoes in stages and then tops them all with a lemon caper vinaigrette.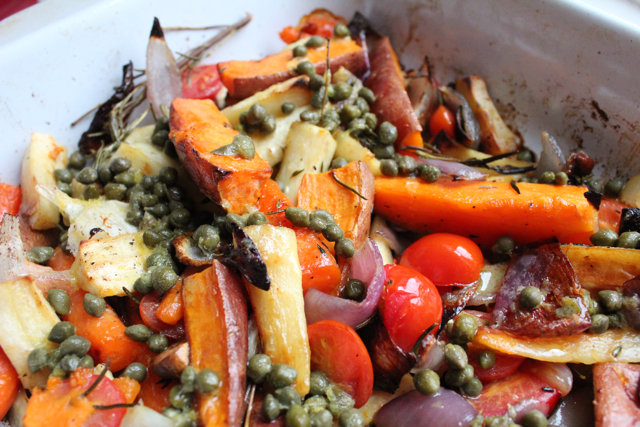 Roasted Vegetables with Caper Vinaigrette
Adapted from Yotam Ottolenghi
2 parsnips, peeled and cut into 2″ x 1/2″ strips
3 carrots, peeled and cut into 2″ x 1/2″ strips
3 red onions, cut into sixths
1/3 cup olive oil
4 thyme sprigs
2 rosemary sprigs
1 head garlic, halved horizontally
2 sweet potatoes, unpeeled and halved horizontally, with each half cut into six wedges
15 cherry tomatoes, halved
1/2 tsp salt
1/2 tsp pepper
For the vinaigrette:
2 tbsp freshly squeezed lemon juice
2 tbsp olive oil
1 tbsp lemon zest
 4 tbsp capers
1/2 tbsp maple syrup
1/2 tsp Dijon mustard
Salt and pepper to taste
1. Preheat oven to 375°.
2. Mix parsnips, carrots, and red onions in a large bowl. Toss with olive oil and then add thyme, rosemary, salt, and pepper. Spread out in a large roasting pan and roast for 20 minutes.
3. Remove the roasting pan from the oven and add the sliced sweet potatoes. Toss them with the other vegetables and roast for 40 minutes more.
4. When the vegetables are tender, add the tomato halves to the pan and roast for 10 minutes. In the meantime, whisk the olive oil, lemon juice, lemon zest, maple syrup, mustard, capers, salt, and pepper in a small bowl.
5. After 10 minutes, remove the vegetables from the oven. Pour the dressing over the vegetables and stir until everything is coated. Adjust salt and pepper as needed. Serve.