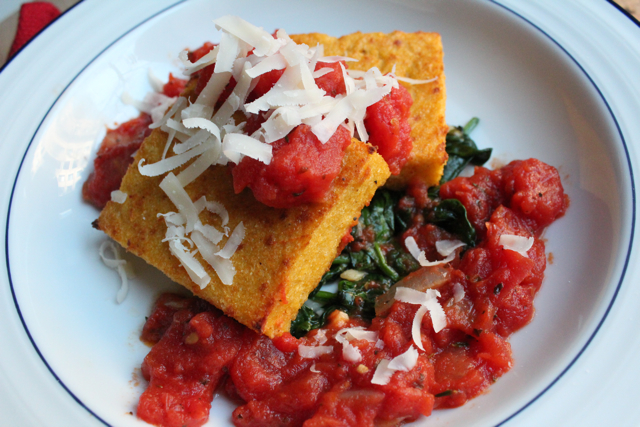 Gluten-free March is off to a good start, but I'm already craving wheat. I went to a bar with friends on Saturday, and while everyone ordered grilled cheese sandwiches or burgers with beer, I got an arugula salad and hard cider. Now, I love a salad and cider, but when you're craving a burger on a brioche bun with a cold, hoppy beer, they just don't satisfy. I hope the wheat cravings diminish as the month goes on.
To help quash my craving for something warm and wheat-like, I made polenta squares for lunch the next day. It was my first time trying them at home, and I was amazed at how easy they are to make: boil, whisk, pour, cool, cut, broil. And good goodness are they cheap at just $1.75 for a two pound bag of cornmeal. Throw in a can of diced tomatoes, garlic, spices, and a handful of spinach, and you have a meal.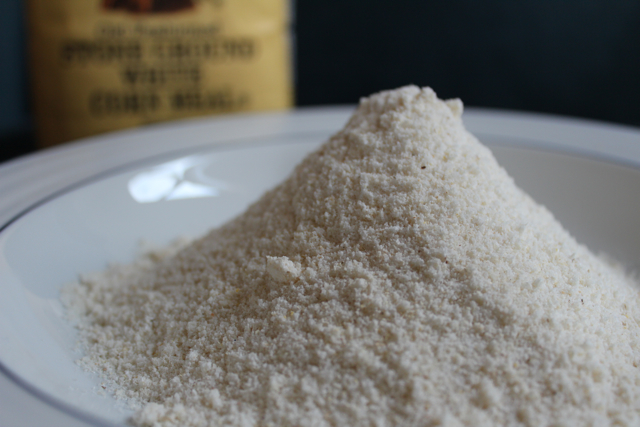 Cornmeal has the color and consistency of a fine sand when it's dry. Once you add it to boiling liquid and start whisking, it plumps and thickens.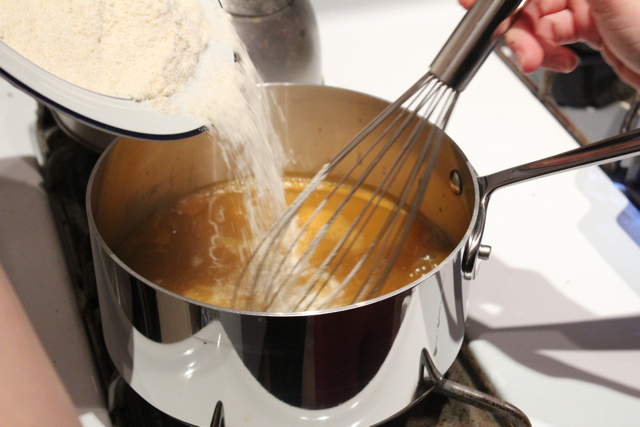 You can serve polenta soft right out of your saucepan, but I cooled it in an 8 x 8″ baking pan for an hour so I could slice it into squares. I used plastic wrap to help push the polenta into the corners and evenly distribute it along the bottom of the dish.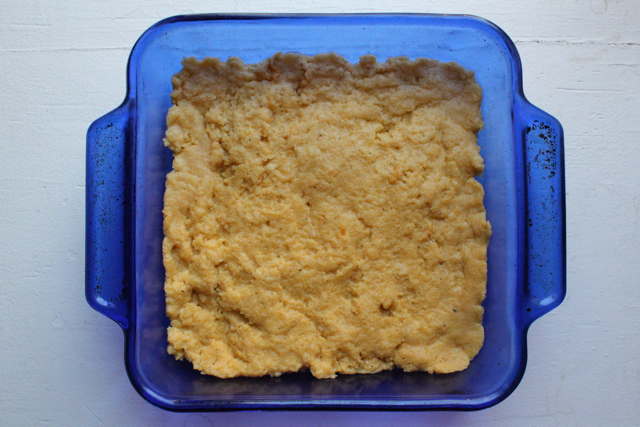 While it cooled, I made a tomato sauce and wilted fresh baby spinach with olive oil and minced garlic. I also listened to the latest issue of The Bugle, a weekly satirical news podcast by The Daily Show's John Oliver and comedian Andy Zaltzman. Do you listen to music or podcasts while you cook? I have a full Sunday listening routine with The Bugle, Studio 360, and The Splendid Table. Cooking, washing dishes, and kitchen cleaning are so much more enjoyable with funny/insightful/informative commentary in my ears.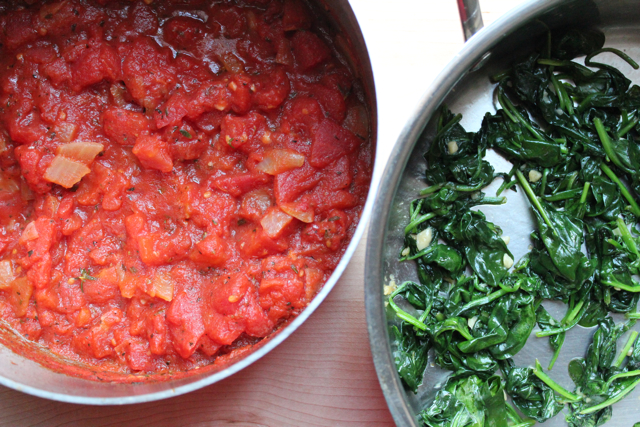 I cut the cooled polenta into squares and put it under the broiler for a few minutes. Once it was heated through and crisp on the edges, I layered it with the rest of the ingredients for the final dish. With a final sprinkle of grated Parmesan cheese, lunch was served.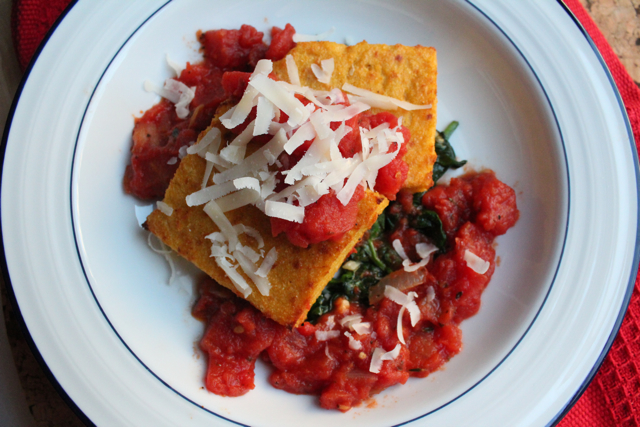 Parmesan Polenta with Tomatoes and Spinach
For the polenta squares (Adapted from Epicurious):
12 tablespoons stone ground cornmeal
3 cups low-sodium vegetable broth
1 cup Parmesan cheese, finely grated
Salt and pepper to taste
For the tomato sauce:
2 tablespoons olive oil
1 small yellow onion, diced
1 garlic clove, minced
28 oz. can diced tomatoes, with liquid
1 teaspoon thyme
1/2 teaspoon basil
1/2 teaspoon oregano
Salt and pepper to taste
For the spinach:
1 tablespoon olive oil
1 garlic clove, minced
5 oz baby spinach, washed and dried
Salt and pepper to taste
1. Bring vegetable broth to a boil over medium-high heat in a medium saucepan. Gradually add the cornmeal, whisking continuously. Reduce the heat to medium low and continue to whisk for five minutes, or until the mixture boils and becomes thick. Remove from heat and stir in 1/2 cup of the grated Parmesan cheese. Set the other 1/2 cup aside for later. Add salt and pepper to taste. Spread the polenta in a greased 8 x 8″ baking pan and cool until it's firm, about 30 minutes. You can also cover the pan and chill overnight. Rinse out the saucepan and save it for the tomato sauce.
2. While the polenta is cooling, make the tomato sauce. Heat the olive oil in the saucepan over medium heat and add the diced onion. Cook until translucent (about 5 minutes), stirring often. Add the minced garlic and cook for thirty seconds more, or until the garlic is fragrant. Add the diced tomatoes with their juices, thyme, basil, and oregano. You can also add a splash of wine or any other spices you'd like. Bring the sauce to a simmer. Continue simmering for about fifteen minutes, or until the liquid is reduced by half. Remove from heat and add salt and pepper to taste.
3. To make the spinach, heat the olive oil in a skillet over medium heat and add the minced garlic. Stir for about thirty seconds and then add the spinach. Continue stirring for three minutes or until the spinach is wilted. Remove from heat and set aside.
4. Preheat the oven to 450º. Once the polenta is cooled and firm, cut it into 12 squares. Place the squares on a greased baking pan about 2 inches apart. Brush the tops of the polenta squares with olive oil. Turn the heat to "broil" and put the polenta under the broiler for six minutes, flipping the squares halfway through. The edges should be crisp and golden brown in spots.
5. To plate, put a layer of spinach in the bottom of a shallow bowl or dish. Top with two polenta squares, a few generous spoonfuls of tomato sauce, and grated Parmesan cheese. Serve.