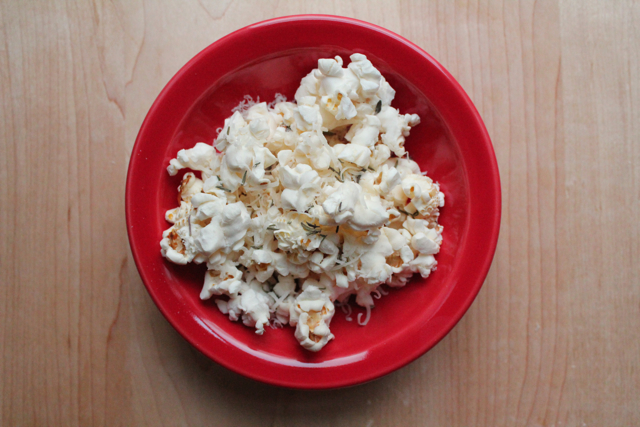 I'm going on day fourteen of my gluten-free experiment. I wish I could say that I don't feel any different, that cutting cookies and bread and pasta out of my diet has done nothing for my body, but alas. I feel better and lost two pounds. The weight loss is probably tied to just eating less, but my body isn't as fatigued and my ongoing battle with acid reflux has reached a truce. It could all be psychosomatic, but we'll see how the rest of the month goes…if I can make it that long without a cookie.
I'm turning to different kinds of snacks in place of sweets that call for wheat flour. Popcorn is my new favorite with different toppings like dried herbs, cheese, cinnamon and sugar, or a handful of peanuts. Tonight I popped a bag of plain, unsalted, unbuttered popcorn and tossed it with Parmesan cheese, thyme, salt, and melted butter.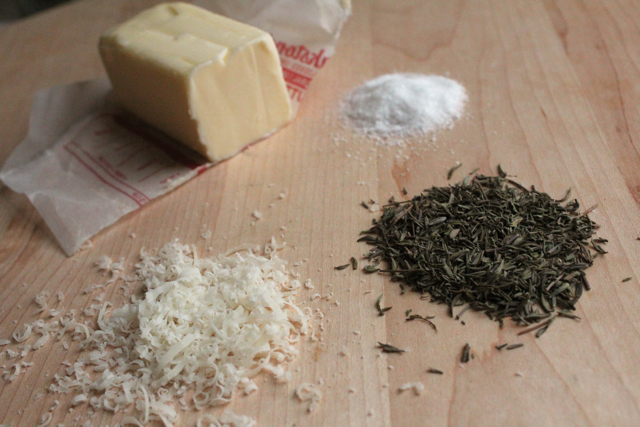 I used a bag of Newman's Own, but did you know you can pop any amount you want in a plain brown lunch bag? Just pour a few tablespoons of popcorn kernels into the bag, fold the top over a few times, and cook it in the microwave for about two minutes. At 50 cents per pound vs. $3.53 for the pre-bagged and buttered kernels, it's cheaper and healthier.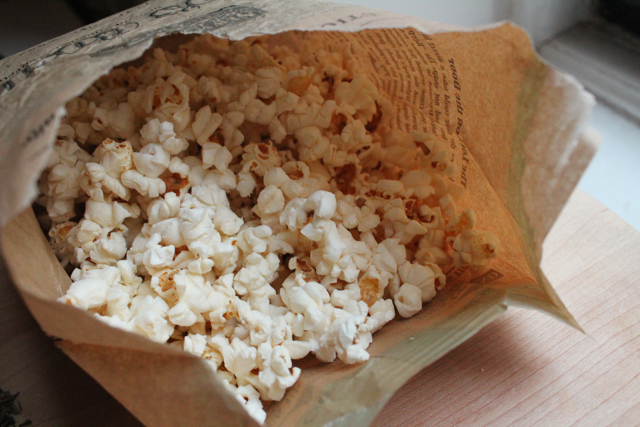 Thyme and Parmesan Popcorn

1 bag microwave popcorn (or equivalent), popped as directed
1 cup finely grated Parmesan cheese
4 tablespoons butter, melted
2 teaspoons dried thyme
Salt and pepper to taste
Pour the popcorn into a large bowl. Drizzle with melted butter and toss with cheese, thyme, salt, and pepper. Serve immediately.