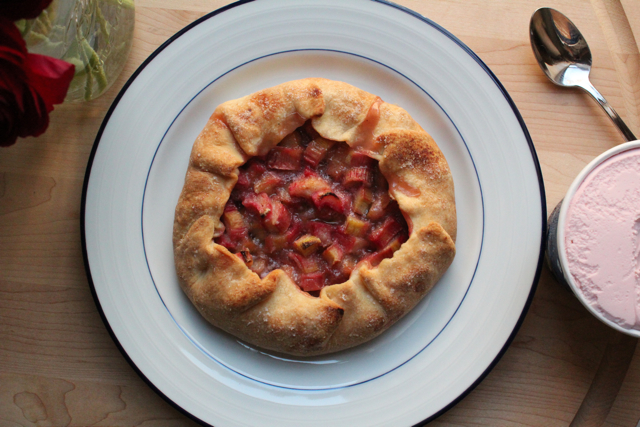 Whoa, Spring. Just four weeks ago, Brooklyn was mired in clouds, cold rain, and the dirge of winter that is March in the Northeast. Now the streets are bursting with life. Cherry blossoms and tulips are in bloom, and every patch of sad grass in this city is dotted with crocuses and snowdrops. I'm so thrilled that I've started buying fresh cut flowers every two weeks to bring some Spring inside my apartment, like these red ranunculus that have taken up residence in a mason jar.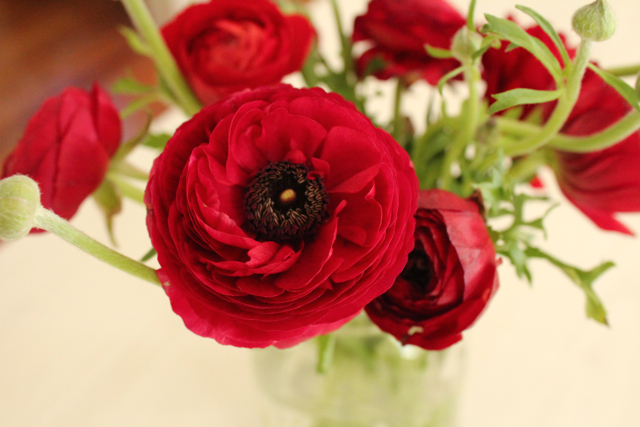 Spring also marks the beginning of prime farmer's market season. We push aside root vegetables to make way for asparagus, ramps, and of course, rhubarb. It's a star player in one of my favorite pies (strawberry rhubarb) and it can be deadly (well, only the leaves). It's like the fugu of vegetables, but much safer.
Instead of using it in a pie this past weekend, I put rhubarb in my most successful galette to date. The crust was crisp, but not too crisp. The filling was sweet, but not too sweet. And it all went well with a pint of strawberry ice cream.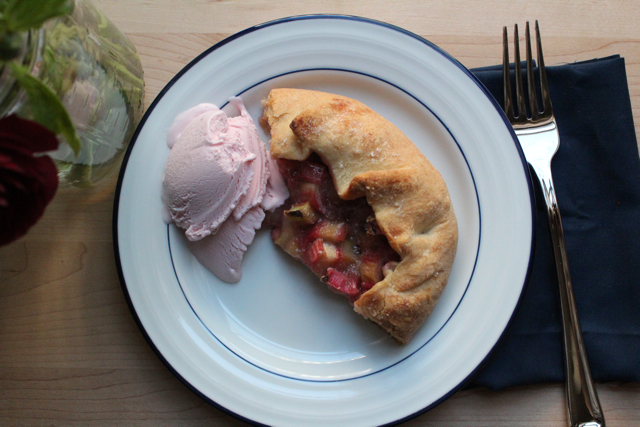 I started with an adapted version of Julia Child's galette dough recipe. Just 1/4 cup of cornmeal gave it a nice crunch and few tablespoons of buttermilk added, well, I'm not quite sure. But it didn't hurt.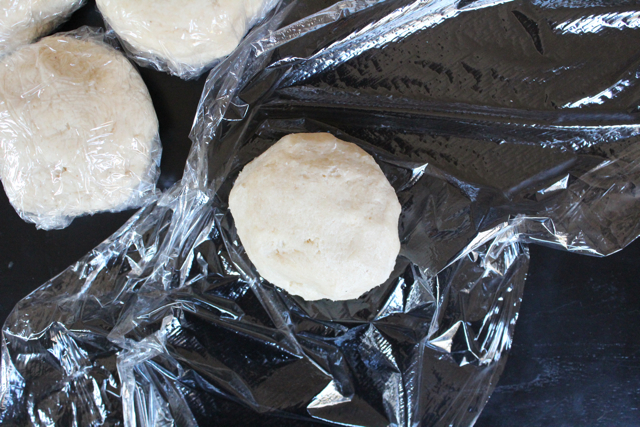 The key to the rhubarb filling was 1/4 cup sugar and 1 tablespoon of flour for every cup of chopped rhubarb. (Thanks, Anne Dimock!) I also added a dash of cinnamon and cardamom.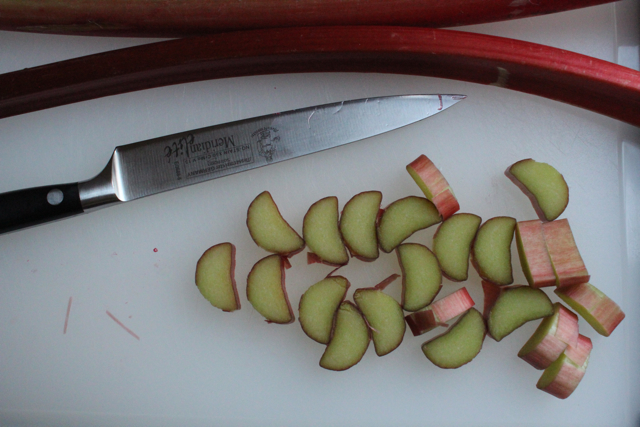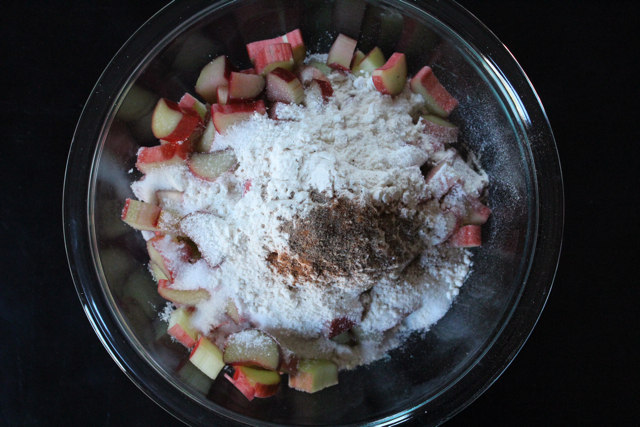 Instead of making one large galette, I made two smaller ones. I originally thought they'd be single portions, but once I rolled out the dough, I knew they would need to be shared.
After about 40 minutes in the oven, the crust was golden brown and the filling bubbled, a mix of sugar, butter, and moisture from the rhubarb stalks. It settled down as it cooled and left tiny caves behind.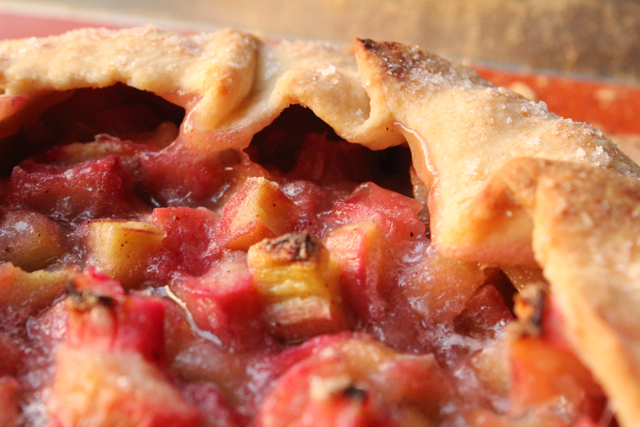 Rhubarb, meet ranunculus. The glamor shot:
Crust
(Adapted from Julia Child)
1 cup all-purpose flour
1/4 cup yellow cornmeal
1 tsp. granulated sugar
1/2 tsp. salt
7 tbs. unsalted butter
2 tbs. buttermilk
1/3 cup ice water
Filling
3 heaping cups rhubarb, cut into 1/2″ pieces (all leaves removed)
3/4 cup sugar, plus 1 tsp for sprinkling
3 tbs. flour
1/2 tsp. cinnamon
1/4 tsp. cardamom
2 tbs. unsalted butter, chopped into small cubes
1. Mix the dry ingredients for the crust in a food processor, including the flour, sugar, salt, and cornmeal. Cut the butter into five pieces and add to the dry ingredients, mixing until the ingredients look crumbly. Mix the water and buttermilk together in a glass. Add them to the dry ingredients and quickly pulse the processor four to five times. Remove the blade from the processor and mold the dough into a round disc (or split it in two if you want to make smaller galettes). Wrap with plastic wrap and chill in the refrigerator for at least an hour and a half.
2. Pre-heat the oven to 400° and line a baking sheet with parchment paper or a silpat mat. Take the dough out of the refrigerator to warm up for five to ten minutes.
3. While the dough warms up a bit, toss the rhubarb, sugar, flour, cinnamon, and cardamom in a large bowl until the rhubarb is coated. Set aside.
4. Roll the dough into a circle about 1/8″ thick. Transfer to the baking sheet and add the rhubarb filling, leaving two inches of dough along the edge. Dice 1 tablespoon of butter into small cubes and dot the filling with it. Fold the dough up along the side of the filling, crimping as you go. Melt the remaining tablespoon of butter and brush it onto the dough. Sprinkle with sugar.
5. Bake for 40-50 minutes, or until the crust is golden brown and the filling is bubbling. A fork should easily pierce a piece of rhubarb. Let cool completely on a wire rack. Serve with ice cream.
It's best served the day that it's baked, but if you need to store leftover galette, put it on a plate and cover loosely with plastic wrap.