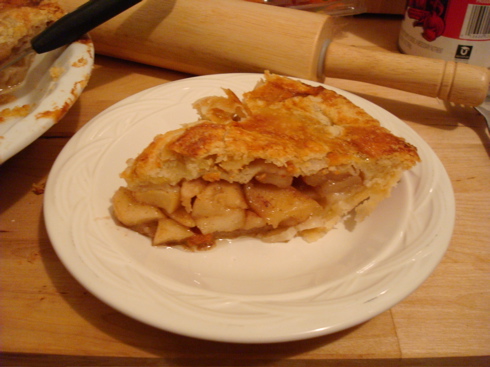 I decided to bake a test pie on Sunday to see if I could/should enter the Enid's Apple Pie Bake-off next week. I've never made a pie from scratch on my own before and learned that it may be one of the most labor intensive kitchen activities one can engage in. This also makes it one of the most rewarding kitchen activities when the pie is successful, unlike some previous baking exploits documented on this blog.
If you're not sure if you should bake a pie, here's a quick questionnaire to review before picking up a pound of apples and getting coated in flour:
-Do you have nothing else to do for the next three hours?
-Do you have a sufficient playlist on your portable music device to get you through that length of time?
-Do you plan on going out for dinner tonight?
-Are your fully caffeinated with additional iced coffee at the ready?
If you answered yes to all of the questions above, then you may be ready to make a pie. Grab a rolling pin, a whole bunch of apples, and check out this recipe. Continue Reading →