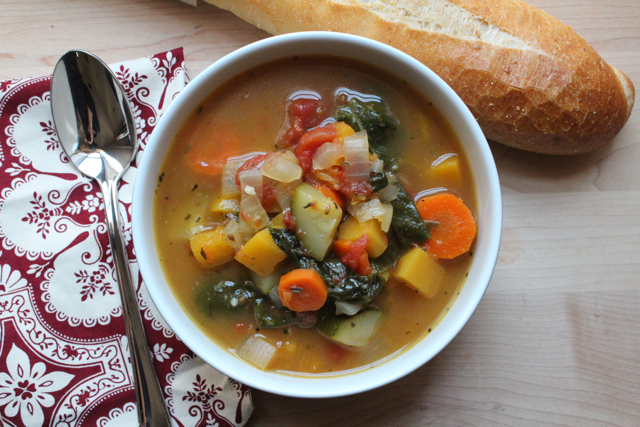 In an effort to save money, I've made a bold commitment: I'm cutting out restaurants for the rest of 2012. Exceptions will be made for social engagements, cheap lunch salads, and a standing Takeout Thursday tradition, but gone are the days of dining out. I can't justify spending $70 on dinner for two at a local Mexican place (although margaritas may constitute half the bill) while produce rots in the fridge.
It's easy to bring myself to cook on weeknights when I'm still in work mode, but weekends are tough. Saturdays and Sundays used to be a series of takeout lunches and restaurant dinners, but now I'm making soup. One large pot of soup on Friday night will last Ramsey and I through lunch on Sunday with supplements of bread, crackers, or grated cheese along the way. We don't need to worry about cooking again until Sunday night.
I made a Fall Vegetable Soup this past weekend with butternut squash, parsnips, zucchini, carrots, spinach, and onions with a few sprigs of thyme. It only cost $23 for supplies (including two boxes of store-bought vegetable broth), so if you estimate $10 per person for lunch and $25 per person for dinner throughout the weekend, that's a savings of $117.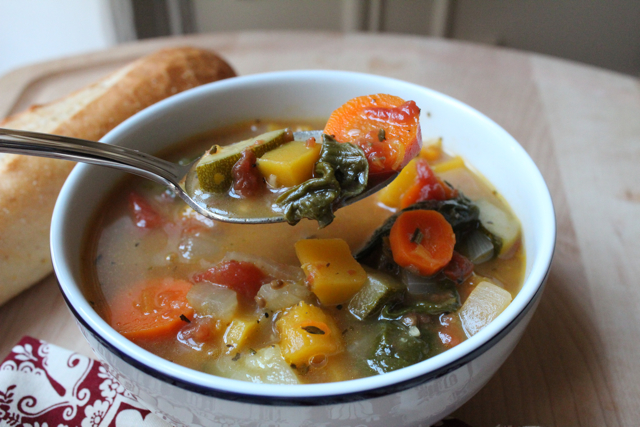 It was cheap and it taste pretty damn good. Continue Reading →